Poland-Italy 0-1, victory to the last breath
Azzurri mathematically saved and still with a chance to win the group even in the case of victory on the last day against Portugal at San Siro, with at least two goals left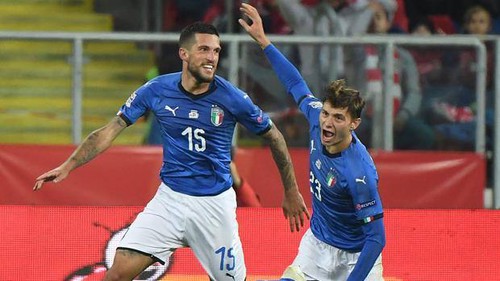 These are the report cards of Poland
Szczesny: 7
Rehabilitated after several benches, proves to be a guarantee.
Bereszinski: 5.5
On his side he does not move. But it marks.
Glik: 6
Precious in a defense that struggles to hold the opponents raids.
Bednarek: 5
Slow and awkward can not stem the opponents ahead
Reca: 5
Florenzi and Chiesa are active in its parts, obstinate clients who are always in difficulty.
Szymanski: 4.5
Called to press his work is ineffective and fails to stem the Italian maneuver
Goralski: 5.5
Colorless and inconspicuous performance
Linetty: 5
He can not propose forward, often forced to chase opponents.
Zielinski: 5
Little incisive both in the offensive and the defensive phase. Insufficient
Lewandowski: 5.5
The recordman of goals in the national team, with 55 goals does not leave his mark
Milik: 5
Isolated and not purposeful, never in the game
Grosicki: 6.5
Bravo in the insertions, in one of these Donnarumma avoids worse trouble.
Blaszczykowski: 6
He commits himself and at the distance he grows, discreet proof of his
Brzeczek: 5
On paper it has an explosive attack, but the limits in the midfield limit the potential explosiveness.
These instead the report cards of Italy.
Donnarumma: 6.5
Decisive on Grosick in two circumstances.
Florenzi: 6
He does his duty running up and down the band, precious some of his suggestions
Bonucci: 6
Ordinary administration, less flashy than usual during the construction of the game
Chiellini: 6.5
Very active, man all the way to the field even grazes the goal with a header.
Biraghi: 7
The man you do not expect is the decisive one.
Verratti: 7
Sparkling and purposeful, finally a good test in the national team
Jorginho: 7
Good agreement with Verratti, capital and personality performance
Stretcher: 6.5
It is proposed with courage and personality, could become a staple of this new national.
Church: 6.5
Race, dynamism and commitment among the most positive forward
Bernardeschi: 5.5
Benino in the first half varied forward and is proposed, but missing something in the final shooting phase.
Insigne: 6
Sees the crossbar, less flashy than the performance with Napoli, but sufficient
Mancini: 7
The difficulty of going to the net remains, but that seen yesterday is a good national with ideas and convictions. Now we play first place with the Portuguese