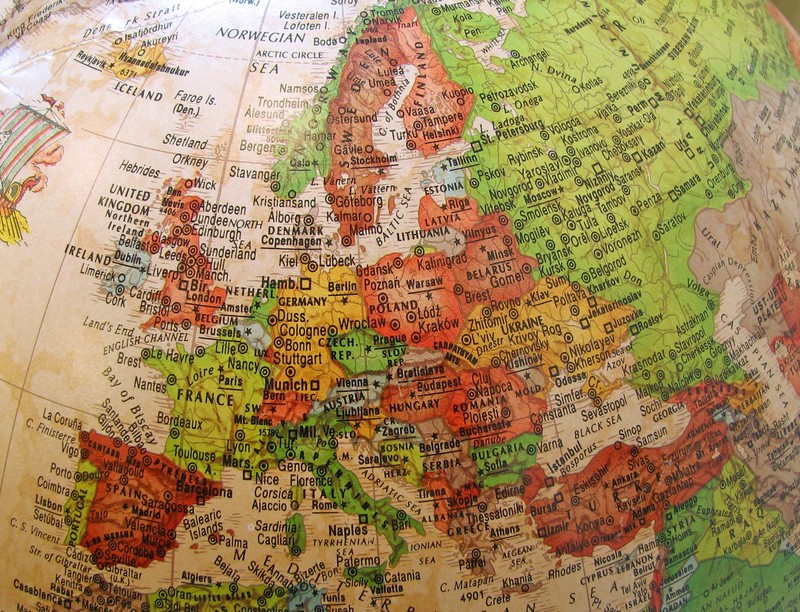 Now - at a time when Ireland are sitting imperiously atop the Group D table and indecorously flaunting all the debauched superciliousness of a latter day Holy Roman Emperor spreadeagled across the papal throne - may seem like a frankly bizarre metaphor juncture to volubly advocate for Mick "Charlemagne" McCarthy to reassess his plans for pan-European dominion, but then not all is at it first seems within the nascent emerald empire. (OK so that was a tad overblown, but c'mon TOP OF THE TABLE, how often does that happen?)

---
When Mick summed up Ireland's latest underwhelming performance against Gibraltar's ragtag bunch of pot-bellied civil servants by using the phrase "amazing crosses" what he failed to add was that this assessment, in seeming to elevate the chaotic aesthetic of pinballing inaccuracy above the sporting pragmatism of picking-out-a-teammate, in many ways epitomises David Moyes' preferred post-match ploy of exalting the rudimentary and, for Ireland fans, forewarns that we'll be banging our heads against the cave-wall of Stone Age football for quite some time to come yet.

In fairness, to give Mick his due both goals did in fact arrive from....erm.... crosses. However, any vindication therein is but the thin rent-a-quote layer of gloss coating the barn door, which against Gibraltar some of our players seemed incapable of hitting from six inches. Indeed, the first goal, triggered by a chain-reaction of shin bones, miscontrol, and ricochets, served up the cheap thrills of Sunday league freneticism to embody a match-long creative malaise. While the long-delayed second, owed as much to an odd confluence between the miraculous, a James McClean cross which wasn't blocked (heavens above), and the genetic, the fact that the Gibraltarian keeper at only 5'9 isn't tall enough for most fairground rides, as it did to "amazing" Irish play.

In reality, there was little that could be described as passable let alone "amazing" about any aspect of the performance - on the bench as much as on the pitch. If beyond David McGoldrick's subtle linkup play Ireland lacked imagination, then it was a similar story tactically where we rigidly adhered to dim-witted perseverance for 90 long monotonous minutes - the coaching staff seemingly labouring under the impression that repetition, however blunt, rather than any display of original thinking was the key to unlocking Gibraltar's stubborn rearguard action. Indeed, as an unwelcome, if predictable, consequence of such conservatism Ireland's play would slowly stagnate in the rote learning of training ground drills and in endless one twos sending Séimí Coleman down creative cul de sacs.

Admittedly, attempting to unravel any blanket defence raises the potential for darning-needle-in-the-eye levels of frustration, but, at the same time, what it mustn't be confused for is as an excuse for a side to devolve into a primordial "hit n' hope" soup of footballing primitivism. Alas, whether as a consequence of shattered confidence levels or technical deficits, such reductivism now borders on the instinctive for this Irish side and has come to be perpetuated stylistically as what Denmark's Thomas Delaney memorably described as "trying to open a can of baked beans with your bare hands".

Although it is true that Delaney was referring to the anti-football enshrined within Martin O'Neill's turgid iteration of Ireland, the crippling negativity of that tired regime lingers in a toxic "footballing realism", which drives players to define themselves in terms of their limitations as opposed to their potential. Upon accepting a return to the Irish role, one of the most pressing challenges confronting McCarthy therefore was to discover a means to effectively disinhibit a squad cowed into diffidence by the icy grind of O'Neill's glacial authoritarianism.

Signs so far suggest that some progress has been made on this front. The performance against Georgia in particular, which fizzed with effervescent verve for 60 minutes, was a welcome antidote to the anemic dross fans of the side had long become wearily accustomed to under Mick's acerbic predecessor. If to date that display remains something of a high water mark, then it at least serves to debunk the orthodox convention that Ireland can only play in a certain, strictly regimented, fashion. This remains something to be positive about, even if the strangely embittered show-down with Denmark proved something of a reality-check.

Although the boys in green were incredibly fortunate to escape from Copenhagen with a scarcely deserved point, they did at least, if only in patches, continue to display a willingness to express themselves in possession. On this occasion, the more worrying aspect of the performance was the positional naivety which the Danes surgically and routinely exposed. Time and time again the Irish midfield were haplessly pulled out of position to leave vast Siberian-scale tracts between the lines, which were just begging to be taken advantage of.
With an eye to the future, it is self-evident that a more sophisticated defensive equilibrium needs to be struck, which balances the visceral "up and at-em" immediacy of a full-court press with the more coolly circumspect tactic of cutting off passing lanes. As if to underline this imperative, far from striking a refined balanced between pressing and positioning, against Denmark Ireland found themselves caught betwixt and between - indeed by popping out of the defensive block in erratic ones and twos their ill-disciplined pressing had the unhappy consequence of opening rather than closing passing lanes.

If a defensive rethink is in order, then the same must surely apply in attack. A deficit in incision underlined by the miserable return of 3 goals in 2 games against Gibraltar, a junkie-like dependence on set-pieces, and a goal-shy strike-force are among the factors which coalesce to make Shane Duffy's 6'4" frame our most obvious goal threat. With a more taxing run of fixtures lying in wait, to stand any chance of capitalising on our expectation-exceeding points haul to date, you would think that Ireland will have to find a way to better pressurise opposition defences.

The logical follow up question is, how exactly can Mick achieve this?

Leading the line, the aforementioned McGoldrick has been the revelation of Ireland's campaign to date. However, since his attributes more closely match those of a number 10 than they do those of an out and out poacher, rather than placing the goal scoring burden squarely on his shoulders it may instead pay to deploy him as the attack's creative fulcrum. As luck would have it, despite not being a natural number 9 - if his goal scoring exploits for Sheffield United are anything to go by - Didsy is nevertheless still Ireland's most clinical forward. Asking him to drop deeper does therefore entail some degree of compromise, but it is one which would be more than compensated for by the array of options it would open up for Ireland.

The assertive gambit of detailing McGoldrick to occupy the problem space between the opposition's defence and midfield could easily be elaborated into a bold statement of intent if the fleet-of-foot duo of Callum Robinson and Shane Long were selected as split strikers to complete an attacking trident. Opting for this blueprint would afford McCarthy a wealth of off-the-cuff tactical flexibility and as a result enable him to switch readily between everything from 4-3-3 to a midfield diamond and from 4-5-1 to the lesser-spotted Christmas tree formation, in order to fluidly mirror to the ebb and flow of in-game dynamics.
On top of this, granting an attacking remit to Ireland's full-backs would mitigate, at least partially, for the limitations of a lumpen midfield trio which, Conor Hourihane's whiplash set piece delivery aside, is largely devoid of creativity. With the full-backs released, the forward trident can narrow to occupy the central area between the half spaces and hence create lateral channels for Coleman and Stephens to move into. Indeed, therein lies the fundamental principle of the proposed tactical approach; cohesive movement. Creating a swooping swarm-like synergy is crucial to disrupting the integrity of an opposition's defensive line as by eliciting uncertainty space is created and space represents vulnerability and vulnerability is, well, vulnerable.

Although in some ways a strategy entailing a subtle symbiosis between multiple moving parts does mark a significant departure from the meat and potatoes brand of homespun football we have become synonymous with, at the same time there is a certain ingrained familiarity with some of the pivotal tenets, which makes it a rather more pragmatic option than is perhaps at first apparent. Under Mick for example, the Irish full-backs have been freed to create lateral overloads in attack, while McGoldrick enjoys a license to float into pockets of space. In some ways, a more coherent attacking structure already exists, albeit in an embryonic form, and just requires a little tactical nurturing in order to develop into something more fully rounded.

However, to do so, first some things need to change. An orthodox commitment to persevering with traditional wingers can lead to congestion in advanced lateral zones and thereby restrict the attacking efficacy of our full-backs, while deploying McGoldrick as an isolated front-man effectively stymies his creative flair and thus robs our play of some much needed continuity.

It is hardly surprising though if a unifying clarity of purpose appears to be missing given that Mick only recently inherited the squad, and even less surprising perhaps, given his predestined contractual fate, if he should elect to persevere with what could be considered as a pragmatic approach. However, since pragmatism is in essence retrospectively defined, any decision to hang his hat on what is a capriciously revisionistic construct remains inherently precarious even if the group table currently suggests it to be prudent.

Indeed, it's worth bearing in mind that Ireland's table-topping ascendancy is itself something of a distortion and that the - currently lopsided - competitive equilibrium will only be restored when Georgia, Denmark, and Switzerland have also enjoyed the luxury of playing Gibraltar twice. At present then, perhaps the most realistic barometer of Ireland's genuine prospects for qualification is provided by our Houdini-esque feat of escapology in Copenhagen. Unfortunately, if that is the case then the reasons for optimism implied by the Group D table need to be tempered to better reflect the scale of the challenge that lies ahead.