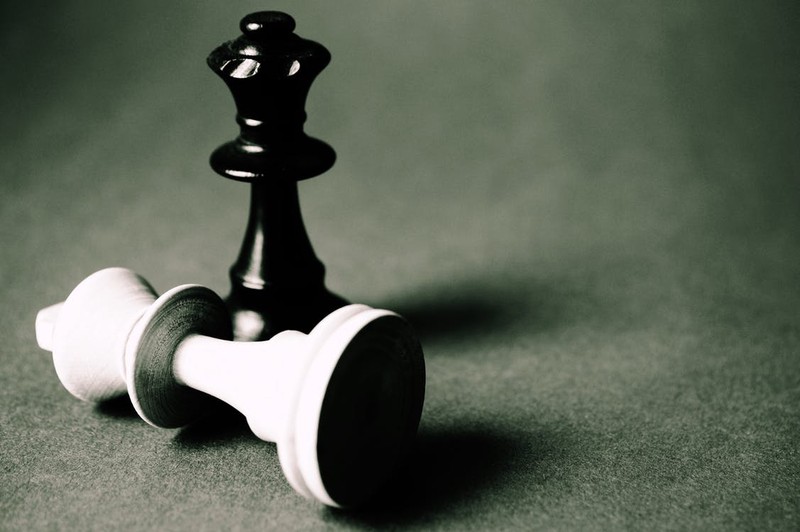 At the start of what we are apparently obliged to call "Gameweek 25", Liverpool's advantage at the top of the Premier League table stood at a healthy 5 points. The big question therefore was, would their lead still be intact come Tuesday morning? Of course, you already know the answer, so I'm going to abandon the shoddy retrospective premise of this preamble and just get on with it.

First up, were Man City who could relax safe in the knowledge that Unai Emery and Arsenal were in town. Indeed, Arsenal's Ikea-style tactics of a flat-pack 4-4-2, almost immediately collapsed into a Stephan Lichtsteiner shaped pile of cheap plywood, superfluous dowels, and unheeded instructions. The flimsy laminate structure couldn't withstand the strain of Arsenal's standard early capitulation. It wobbled as Iwobi dithered, cracked as Mustafi froze, and gave way altogether as Aguero pounced.

For a period thereafter, City's play skated with frictionless ease around the Etihad, carving bolero-esque patterns through Arsenal's frozen rearguard, and leaping into the imagination as if gravity were a state of mind. With a jolt, however, Koscielny's equaliser brought them back down to earth. All of a sudden, City's play became mired in the slush of self-doubt, and where the Silvas, De Bruyne, and Sterling once glided through our footballing dreams, they now laboured as if chained to nightmares of Rafa Benitez and collieries.

Arsenal grew in stature or rather City shrunk, for as De Bruyne regressed into teenage angst so City slunk into introspection. For much of the first half indeed the tone of the Cityzen's play sank into melancholy as it lamented football's great injustice. How can we possibly be drawing with this lot? Their aggrieved touches grumbled. But beyond sulking that "it's just not fair" they were devoid of answers.

With City locked in their room and ignoring Pep's parental exhortations, this was Arsenal's opportunity. And, like adolescents boasting fake IDs and giddy at their own impertinence, sneak into the game they did. The problem is that Arsenal never entirely convince as grown-ups; always leaving the impression they are one vodka away from breaking down in tears and calling home for help.

The inevitable phone call came just before half-time. Emery's re-assembled formation, pieced together from equal parts MDF and delusion, proved to have the structural integrity of a Jenga tower. One deliciously clipped pass from Gundogan was all it took to pull Lichtsteiner so far out of position that the entire teetering edifice collapsed into a metaphor for the club's post-Highbury history. As if to emphasise the fact, Aguero emerged from the rubble with a second and the game was as good as over.

If the Argentine's movement was between the lines, then his perfect hat-trick (diving header, right foot, left hand) explicitly itemised, in almost cruel granular detail, the extent of Arsenal's defensive shortcomings. But in truth, nobody needed reminding. For long periods of the game, Emery's defensive line was as stretched as the waistband on Pavorotti's skinny jeans. Vulnerable out wide, vulnerable in the half spaces, vulnerable in the box. This wasn't so much rabbit in the headlights, as rabbit in the fox's den.

A word here on Mateo Guendouzi, whose performance sparkled with promise. So calm and composed was he, that it can only be a matter of time before Arsenal, having topped up Mesut Ozil's pension fund once again, are unable to meet his wage demands and he signs a pre-contract with PSG.

The second half was a half-hearted affair played out to satisfy legal obligations rather than as if the result was in any doubt. As the game trailed off, like a sentence not worth finishing, City regained some of their old hauteur, buoyed by the confidence of knowing that the world had been put to rights and that the three points were theirs.

Job done for City, the ball was now in Liverpool's court.

Of late Liverpool have resembled an over-geared cyclist grinding up a twisting alpine pass. With lactic acid cramping the pedal strokes of their play into a one-paced slog, they are, one senses, praying for the summit to arrive quickly. However, if the West Ham game was anything to go by the slope may be getting steeper and the top farther away.

As if the contest had been derived from a visceral algebra, less xs and ys than straining sinews and tired minds, the game's geometry defied mathematical form and instead pulsated with an energy that was at once nervous and optimistic. The result was that West Ham harried Liverpool through their mental fog and into a creative cul de sac.

Throughout, indeed, Liverpool displayed all the imagination of a paint-by-numbers artist. Yes, Salah shimmied his Elvis-like hips into the box once or twice, and Mane, on occasion, injected some cut and thrust, but these momentary flickers weren't enough to ignite Klopp's damp tinderbox or convince Firminho to pass to his teammates. Even, when a spark did come, by way of Mane's swivelling finish and a linesman's hypermetropia, it was soon smothered by the brittle blanket of Liverpool's defense.

It seems a long time ago now when Liverpool's defense was as impervious to opposition attacks as Jose Mourinho is to self-reflection. A spate of injuries has cost Klopp's rearguard dear, not just in terms of talent or continuity, but in terms of the combination of both. With only one clean sheet since Boxing Day, from the get-go, it was clear that they'd struggle to improve on this statistic.
The disarray on set pieces was sufficiently alarming to suggest that Marco Silva must have spent the preceding week moonlighting as Liverpool's defense coach. Indeed, in the cold light of day, Klopp must be counting his blessings that his side weren't punished beyond Mikhail Antonio's strike. Although West Ham's round-the-corner routine was well executed, and expertly finished, at the same time, it was about as innovative as a floppy disk and really shouldn't have posed this Liverpool side of tech-savvy millennials too many problems.

It could have been worse if Ireland's own (I'm going to use this while I can) Declan Rice hadn't squandered a gilt-edged opportunity from another woefully defended set-piece. It was a pity for Rice as otherwise, he produced another mature, well-rounded performance which provided further evidence of his intelligent positional play and knack for making important interceptions. (Just what Ireland need).

After Rice's miss, West Ham withdrew into comfortable circumspection, the shuffling of their slippered shape outmatching the stiffness of Liverpool's arthritic play. In searching for creativity Liverpool seemed to resort to playing through balls to the ghost of Coutinho; to where he would have been, to where they wished he was, to where he wasn't. And yet, for all their haunted adventure, Liverpool almost contrived to win, almost found a way, almost changed the narrative. Almost.

In time, could Origi's tame finish come to define another almost year?
In all probability come Thursday morning Liverpool will find their one-time 7 point advantage diminished to the stuff of memory (of dreams indeed). Having almost (that word again) made a telling break; how dispiriting will it be for Liverpool to find themselves not only pegged back but overhauled at the top of the table?

Already, in the wake of the match at the London Stadium, Mark Noble has remarked that Liverpool looked nervous, that the title race was taking an appreciable toll on their play. Perhaps such comments are more mischief than insight, more good copy than objectivity, more wrong than they are right. Irrespective of any of that, such quotes, thanks to their public airing, have crystallised into little seeds of doubt, into something to look out for, and into one more challenge Liverpool have to overcome.

At root though Liverpool's sticky patch is as corporeal as it is cerebral. A spate of injuries has served to magnify deficiencies in terms of squad depth. Whereas Man City's B-team would challenge for a Champions League spot, Liverpool would be forced to field Alberto Moreno, which in itself would reduce them to mid-table sloggers.

That's not to say that City are infallible. Indeed, if Liverpool are struggling to handle external expectations then it could equally be argued that City are burdened by those of an internal variety. In City's case, it's their brilliance which is their crystal jaw - a fragile protuberance which shatters into glass tears as soon as a glove is laid on it.
The contrast in psychologies captures both the delicate balance between football's ying and yang, and potentially the stark difference between winning and losing. With form over course and distance on their side, the psychological scales must weigh in City's favour. The question now is can Klopp et al redress the balance? If Spurs don't surprise us all that is.