Borussia Dortmund have reached a critical point. Head coach Lucien Favre was sacked just after an humiliating 5-1 loss at home to Vfb Stuggart, a newly promoted team. This made it three defeats out of five games for Dortmund and the board had no choice than to let Lucien Favre leave. Now Dortmund currently sits fifth in the Bundesliga table, six points away from first placed Bayer Leverkusen and their chances of competiting for anything looks gloomy. Although the poor results were also effects of injures for players like Erling Haaland, Thorgàn Hazard, Thomas Meunier, Marcel Schemlzer and Thomas Delaney.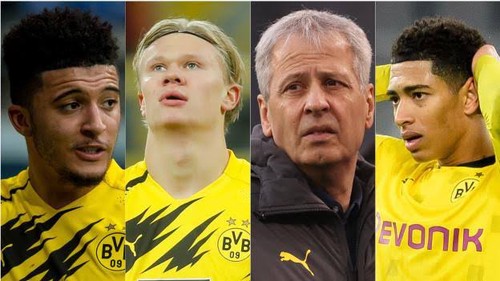 Favre had been charge at Dortmund since summer 2018. He managed to produce good results within the period of 30 month spent at the club. He even went on to acheive a remarkable feat as he recorded the highest point average of all Borrusia Dortmund coaches in history at 2.09, he also led his team to win the German Super cup in 2019, that being the only trophy won during his tenure. During his time there were many downsides, Dortmund fell short as contenders to their rivals, Bayern Munich blowing away a 9-point lead as Bayern went on to win the league, two points above Dortmund. Also they were not impressive in their Champions league runs as they failed to proceed past the round of 16 during the 2019/20 Champions league campaign.
Favre however argued that he could have turned things around if given more time, he was quoted to have said "I find it a real shame that our ways part here, We had two very successful seasons and have a team which would have played a successful season at the end of this year too. I am still convinced of that" via dpa sports agency. However, sporting director Michael Zorc thinks otherwise as he said, "It is difficult for us to take this step, at the same time, we are of the opinion that the achieving our goal for the season, given the current set of circumstances, is seriously under threat and so we have to act."
As a temporary solution to their managerial troubles, Dortmund have made assistant coach Edin Terzic, interim manager. Terzic was formerly a Dortmund youth coach and scout from 2010 until 2013, and later an assistant to Slaven Bilic during Bilic's time as coach of English Premier League club Westham and Turkish club Besiktas. Terzic stood in for Favre for a Dortmund game against Hoffenheim last year when Favre was taken ill.Terzic will be supported by Sebastian Geppert and Otto Addo, two of the youth coaches who have helped to develop standout young players like Gio Reyna and Youssoufa Moukoko for the first team in recent years. The management believes Terzic and his group can hold the fort and give the players the much needed morale and confidence as well as produce good results pending the time a new coach is appointed.
Marco Rose of Borrusia Monchengladbach is among the top candidates for the hot seat at Dortmund. Other options include Ralf Rangnick and RB Salzburg's Jesse Marsch, but the club is in no rush as they would rather wait and see how things develop in the next few months.Favre's eventual successor has to solve these tactical issues and allow the team to play "meaningful football", as Hummels put it. That being said, a new coach also has to bring a different energy to the Signal Iduna Park.
Dortmund is a team known for possession football, but this was really lacking in Lucien Favre's tenure. That style was established by Jurgen Klopp over a decade ago when he was Head coach. It was popularly known as 'heavy metal football'. Klopp was also known as a coach who would stand on the sidelines and dish out instructions. Favre however was the quiet type, just sitting and watch the players play on. It is expected that a the new manager should be one who can bring back the BVB philosophy and enthusiasm. Also BVB, is known as a factory for producing young talents with the likes of Sancho, Haaland, Gio Reyna, Jude Bellingham and the newly promoted Youssoufa Moukoko. With its group of youngsters, Dortmund apparently needs a different personality at the sideline - someone that can fuel enthusiasm and boost confidence of the youngsters as well as enforce discipline.