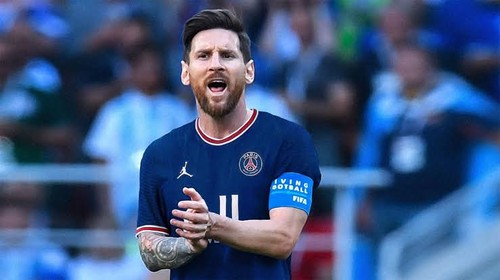 After a year of speculation, Lionel Messi finally made a shocking transfer to Paris Saint Germain(PSG) from Barcelona. It looked like Messi was ready to stay at Barcelona on reduced terms but, due to financial woes at Camp Nou, he teamed up with a plethora of world-class stars such as Neymar and Marco Verratti in Ligue 1 who are finally moving to a new club. at 34 will be the most exciting history of European football of the 2021/22 season and national honors in France will almost certainly follow. the striker admitted that circumstances forced him to leave Barca against his will, it is a move he hopes to increase his chances of winning the fifth Champions League trophy he dreams of before the end of his playing career.
Lionel Messi and Neymar, PSG vs Lyon, 2021/2022 Messi made his substitute debut in the second half against Reims on August 29, 2021. He then got his first start during the Champions League trip to Bruges on September 15.
The former Barcelona star was awaiting his first PSG goal after another gap in the game against Lyon, a game that has started again. He hit the crossbar with a typical free kick but was then substituted after 76 minutes, a decision he angrily reacted to by refusing the hand of coach Mauricio Pochettino.
Messi missed his 21st victory at Metz on 22 September due to a knee injury and also missed his twentieth victory over Montpellier three days later.
Assists: 0
Messi: Matches played
Reims 0:2 PSG, August 29 - Ligue 1 Minutes played: 24
Goal: 0
Assists: 0
Messi made his debut on the bench PSG 40 Clermont Foot, September 11 - Ligue 1
Minutes played: 0
Goals: 0
Assist: 0
Club Brugge 1:1 PSG, September 15 - Champions League
Minutes played: 90
Gol: 0
Assist: 0
There was frustration when PSG drew 1:1 in Messi's first game
PSG 2:1 Lyon, September 19 - Ligue 1 Minutes played: 76
Goals: 0
Decisive pass: 0
Metz 1:2 PSG, September 19 - Ligue 1 Minutes played: 0
Goal: 0
Decisive pass: 0
PSG 2:0 Montpellier, September 25 Ligue 1
Minutes played: 0
Goal: 0
Decisive pass: 0
PSG 2:0 Manchester City, September 28 Champions League
Minutes played: 90
Goal: 1
Assist: 0
Rennes 2:0 PSG, October 3 Ligue 1
Minutes played: 90
Goal: 0
Assist: 0
Stay tuned to get more updates on football players and their respective clubs