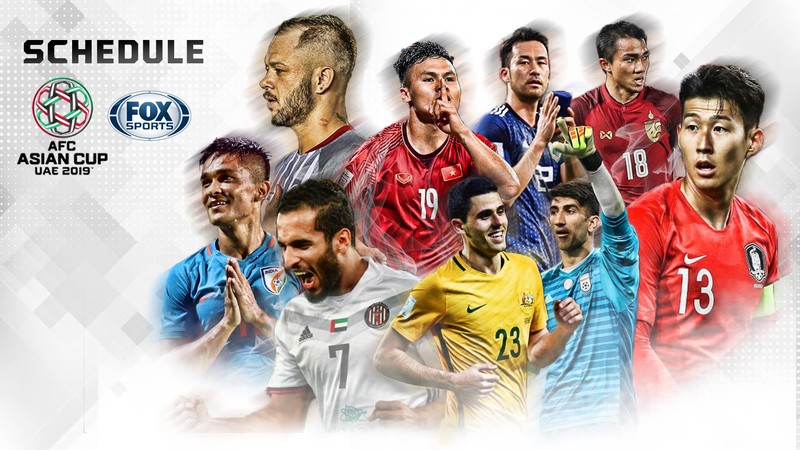 24 countries will participate from Saturday onwards in the AFC Asian Cup 2019. Four years ago Australia won it, being the host of the tournament. They won 2-1 after extra time in the final against South Korea. The winning goal was scored by James Troisi in a fully packed ANZ Stadium in Sydney. This year the tournament will take place in the United Arab Emirates. The opening match on Saturday will be played in Abu Dhabi, where the home nation will face Bahrain.
It will be the first time 24 countries will be present, whereas in the last edition only 16 countries competed. It will be the second time the event is hosted in the United Arab Emirates. Six of the 24 countries have already won the tournament before and will be aiming to win it again this year. Three countries will make their debut at the tournament; these are Kyrgyzstan, the Philippines and, Yemen. Eight stadiums were chosen to host the event. Three stadiums are based in Abu Dhabi, two are located in Dubai, another two in Al Ain and, finally one in Sharjah. The teams were drawn into six groups of four teams and will face each other once before moving to the next round.
Above I wrote that six nations have won the tournament before. The only group without a previous winner is Group A. Host nation the United Arab Emirates, was the runner-up in 1996, when the tournament was also hosted in their own country. Group D contains two countries who won the tournament in the past. These are Iran and Iraq, and they are the clear favorites to top that group. The other previous winners are Australia, South Korea, Saudi Arabia, and Japan. It may be no surprise that these six nations are also among the favorites to do well.
Group A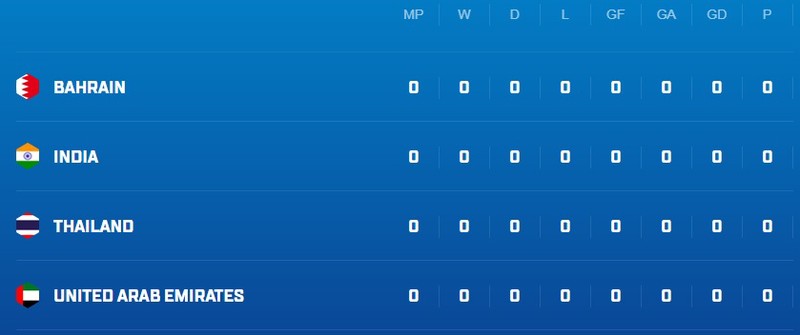 As a home nation, you're always going to be in favor when it comes to the draw. You're basically avoiding the stronger nations. If the draw was purely done based on the FIFA ranking, the United Arab Emirates would have been in the second pot, rather than the first pot in which they were now. Looking at the other teams in the group the home nation can be considered the favorite to win the group. Personally, I see Bahrain take the second spot, and Thailand will fight with India for the third place in the group.
Bahrain (FIFA Ranking 113 / Elo Ranking 99)
Bahrain is currently ranked as the 113th nation in the world according to governing body FIFA. However, they should be considered a bit stronger than that in general, as their Elo ranking is currently 99th. I always consider the Elo rankings more accurate, as they take more factors into consideration. The FIFA ranking is purely based on results, the Elo ranking considers the importance of a match, the winning margin, but also the home advantage for instance. In preparation of the tournament, Bahrain played a total of eight friendlies from July 2018 until recently in December. They started with two draws, which was followed by a defeat against Syria. They recorded their first win (4-1) against Myanmar, after which they lost to Oman. Their last three matches in December were impressive. First, they won 5-0 against Tajikistan, then 1-0 against Lebanon and lastly they won 4-0 against North Korea.
Almost all the players in the squad play in their own country. Two players play for Al-Nasr in Kuwait, and the only one playing in Europe is Abdulla Yusuf Helal, who currently plays for Bohemians Prague in the Czech Republic. The most experienced player in the squad is Abdulwahab Al-Safi, who is the captain of the team and who has played 82 international matches for Bahrain so far. East Riffa Club striker Sami Al-Husaini is their main striker and scored seven goals in 53 caps until now. One of Bahrain's strengths are corner kicks, defender Sayed Dhiya Saeed has the ability to score from corners, mainly with his head.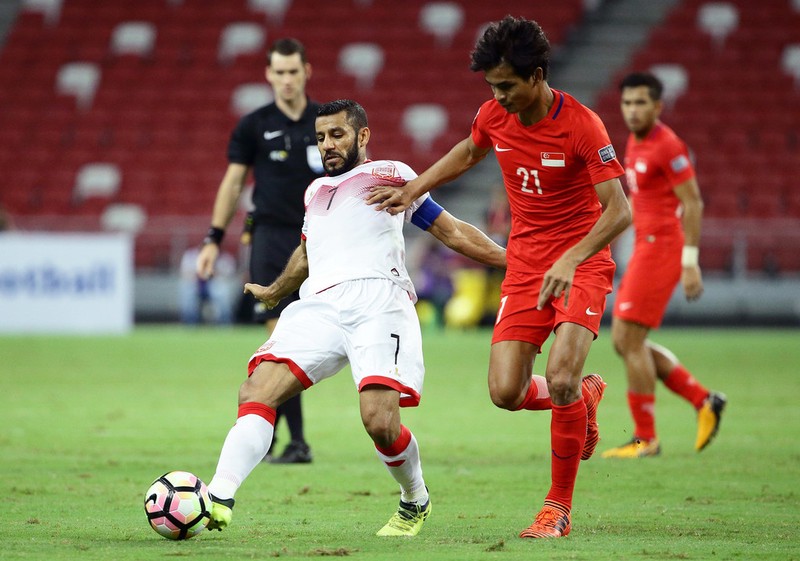 India (FIFA Ranking 97 / Elo Ranking 155)
India reached the final of the SAFF Championship in September, after wins against Sri Lanka, the Maldives, and Pakistan. In the final, they faced the Maldives again, this time the Islanders won 2-1 and took the trophy home. The results in this tournament are the main reason why FIFA ranks India in 97th place, whereas the Elo ranking of India is only 155th. The opposition in the SAFF Championship was weak, and India with so many citizens even lost against a tiny nation. In the remaining friendlies towards this tournament, India drew 0-0 with China and Oman, which showed that their defense is probably good enough to not concede too much during this Asia Cup. Scoring abilities are something else though. They also lost one friendly match, which was a 2-1 defeat against Jordan.
All players from the Indian squad play in their own country. If they manage to keep a clean sheet for most of the match, they might scrap a win out of the contest in case they can put Sunil Chhetri in position. The 34-year old striker is their most experienced player and already has 103 caps and 65 goals for his nation. Their other goal scoring machine (against weaker nations) has been Jeje Lalpekhlua, who so far scored 22 goals in 52 caps.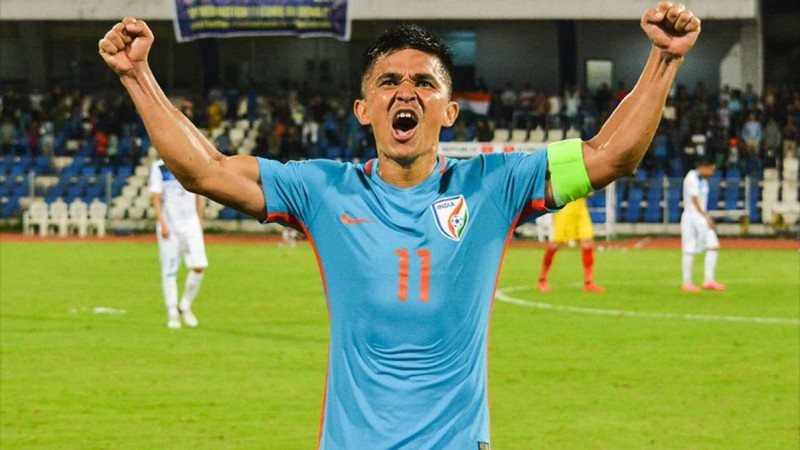 Thailand (FIFA Ranking 118 / Elo Ranking 113)
All the countries in this group should be aware of Thailand. They may only be 118th in the FIFA ranking, and 113th in the Elo ranking, but they are currently unbeaten in a strong series of results. Their last defeat was a 2-0 loss against China, after which they managed to win six matches and draw three. As they only face the United Arab Emirates in their last match of the group stage, they might remain unbeaten for another couple of matches. Their largest win was 7-0 against Timor-Leste, and their biggest achievement in these matches happened just a couple of days ago when they won 2-0 against Oman.
Also, the Thai squad exists almost only of players who play in their own country. The only player playing abroad is Chanathip Songkrasin, who plays for Consadole Sapporo in Japan. He is a scoring midfielder and could be a real threat for some of the defenses. The most likely goalscorers, however, will be Adisak Kraisorn and legend Teerasil Dangda. Dangda is the captain, is still only 30 years old, but already has 95 caps on his name. In those matches, he managed to score 42 times, which is definitely a good record, and he is, therefore, a player to look out for in the upcoming weeks.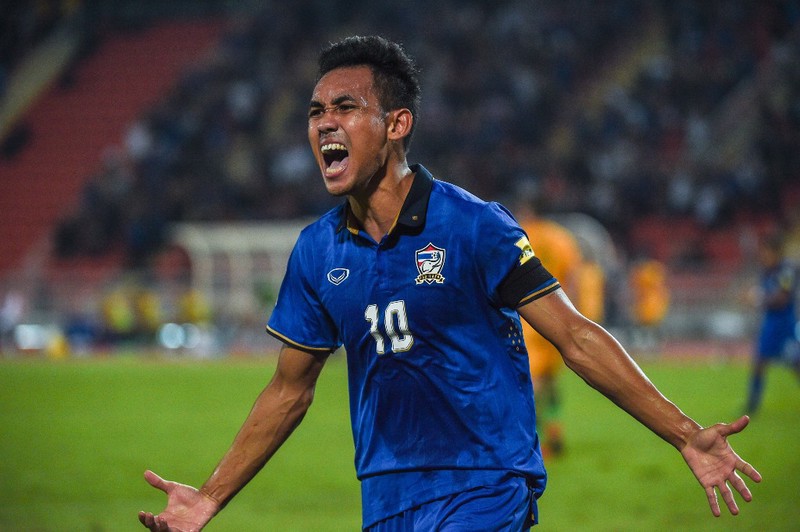 United Arab Emirates (FIFA Ranking 79 / Elo Ranking 85)
As said above, the home nation is favorite to win this group, but I don't expect this to go easy. They will surely face quite some opposition from the other teams, and the pressure will be totally on them to perform well. The question is if they can deliver, or not. Their preparation for the tournament wasn't easy either, starting with a 0-0 draw against Andorra, and a 2-0 defeat against Trinidad & Tobago. Their win against Laos was good, 3-0 even, but drawing against Honduras and Bolivia are no results you would like to take home with you. Their last match was a confidence boost, however, as they managed to beat Yemen 2-0, a country also participating in this tournament.
The Arabs are coached by Alberto Zaccherino, scudetto winner with AC Milan, and winner of the Asia Cup with Japan in 2011. All players in the squad are playing in their home country, some of them play for Al-Ain, who recently lost the final of the FIFA World Club Cup against Real Madrid. If they can bring that form into the tournament, the UAE would have a good chance to win the group. Captain of the team is 35-year old Ismail Matar, who is a striker who scored 42 goals in 123 caps. More impressive are the records of the other strikers in the team though. Ahmed Khalil scored 46 goals in 99 matches, whereas Ali Mabkhout scored as many goals in just 73 caps. If they can get that strikeforce in form they could go really far in this tournament on home soil.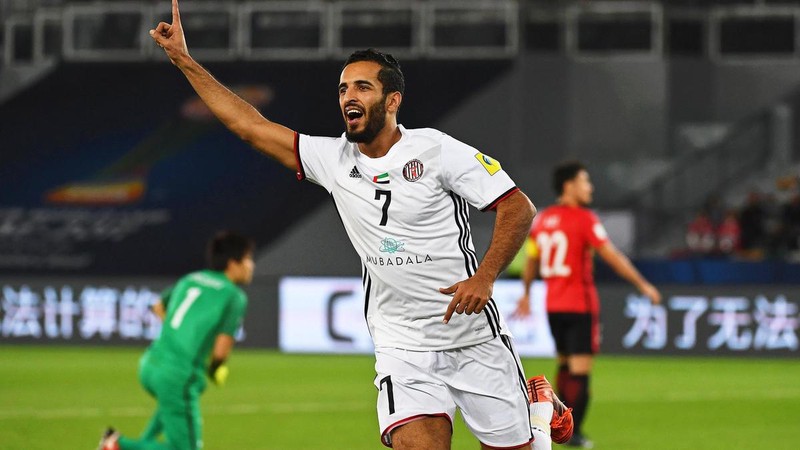 Group B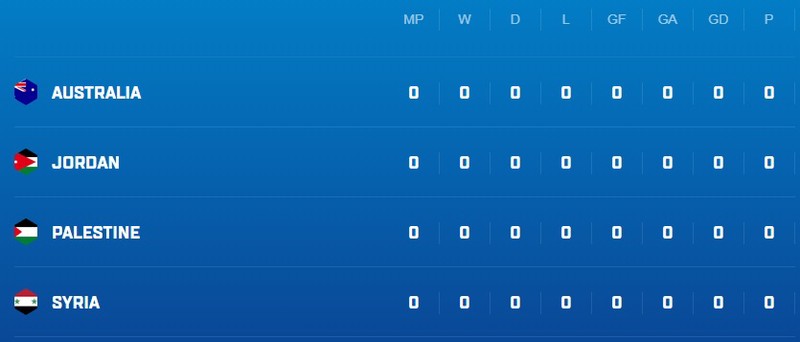 Australia (FIFA Ranking 41 / Elo Ranking 35)
Australia is the big favorite in Group B. The title defenders of 2015 are eligible to play in the Asia Cup after they moved over from Oceania a couple of years ago. The main reason was for having a better chance to qualify for the FIFA World Cup. They were dominant in Oceania but always had to face a stronger South American nation in the World Cup playoffs, which resulted in them being eliminated almost all the time. After they moved to Asia, they had a fairly easier route to the World Cup, despite playing many more matches. There is no doubt that Australia is a team that could win it again this year. After being eliminated in the group stage of the 2018 FIFA World Cup, Australia played four friendlies in preparation to this tournament. They recorded one draw against South Korea, and three easy wins against Kuwait, Lebanon and Oman (4-0, 3-0 and 5-0).
The Australian squad contains quite some known players, of which the majority plays in Europe. Captain Mark Milligan plays for Hibernian FC and is the most experienced player in the squad with 74 caps. He is closely followed by VfL Bochum forward Robbie Kruse (70 caps) though. The goals should come from Mathew Leckie (Hertha BSC) and Tom Rogic (Celtic FC). Other known players in the squad are goalkeeper Mathew Ryan, Massimo Luongo, Trent Sainsbury, and Jackson Irvine.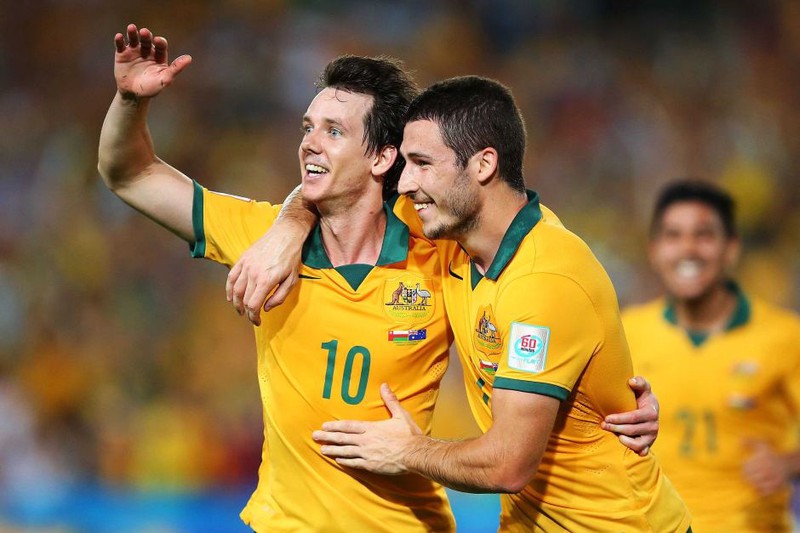 Jordan (FIFA Ranking 109 / Elo Ranking 97)

Jordan certainly is a force to reckon with, as they are probably a bit stronger than what their ranking implies. The Elo ranking already proves that a bit, but I think they should be considered even stronger. In October they played against FIFA World Cup runners-up Croatia in a friendly match, in which Croatia did not play all their strong players. They played a good match and even managed to score a goal in the 2-1 defeat. They also won 2-1 against India and had draws against Albania, Saudi Arabia, and China. Those are quite good results, but they also lost matches against Kyrgyzstan and Qatar.
I only know one of the players in the Jordan squad, which is managed by former Belgian international player Vital Borkelmans. Musa Al-Taamari is probably their biggest talent and has already proven to be highly valuable for the Jordan team. In the 14 matches he played for Jordan so far, he scored already 11 times. Jordan has an experienced goalkeeper who already has 139 caps. He is the captain of a team with an experienced defense and midfield. The defense is led by Anas Bani Yaseen, a player with already 110 caps and the leader in midfield is Baha' Abdel-Rahman, who already played 120 matches for Jordan.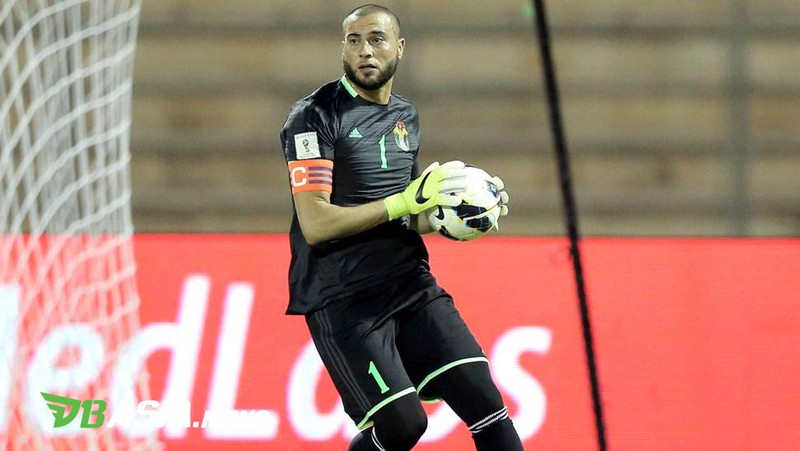 Palestine (FIFA Ranking 99 / Elo Ranking 112)

Palestine had a great spell in October when they won the Bangabandhu Gold Cup, a minor tournament. In that tournament, they won matches against Tajikistan twice (group stage and final), Nepal and Bangladesh. This win made them climb up the FIFA rankings to position 99, but they are still at the 112th place in the Elo ranking. They won another friendly against Pakistan before they drew twice, against China and Iran, which can be considered pretty good results. In the last week of December, they lost two matches against Iraq and Kyrgyzstan.
When looking at the Palestine squad we can immediately see that they have players that can score a goal. Out of the 23 players in their squad, only six players never scored a goal for the national team. Three of those six are their goalkeepers. Captain Abdelatif Bahdari scored 15 goals in 89 caps, whereas 26-year old midfielder Sameh Maraaba also can produce some goals, as he also scored 15, in just 40 caps. The majority of the players in the squad play in Palestine, but other than that we can find players who play in Argentina, Malta, Morocco, Chile, Slovenia, Sweden, Egypt, and the United States. This makes the squad unexpectedly very international.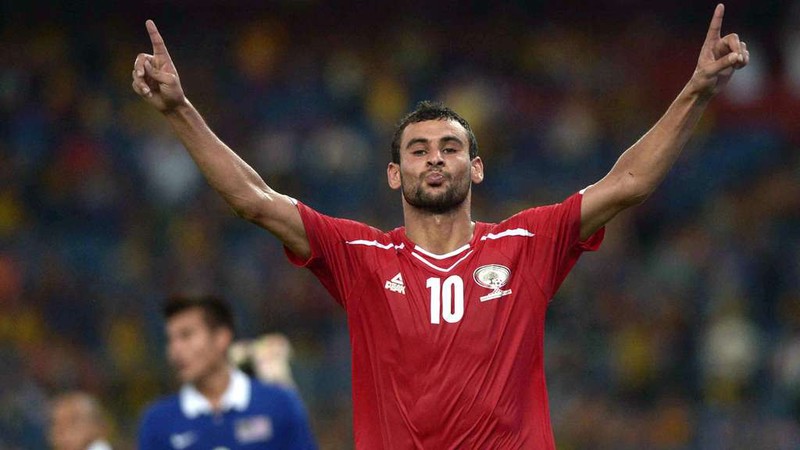 Syria (FIFA Ranking 74 / Elo Ranking 58)
Probably one of the most unknown squads in the tournament is the one of Syria. It's great to see them participate in the event, after all the trouble the country has been facing in the war. They have a relatively high ranking, which would indicate that they will be among the favorites in the group together with Australia. I am not convinced that they will be that strong though, but I will be happy to see that they have positively surprised me in a couple of weeks. One thing is for sure, they have had a couple of good results on their way to the tournament. They had 1-1 draws against Uzbekistan and Oman and wins against Bahrain, Kuwait, and Yemen. They lost however against Kyrgyzstan and China. This shows to me that behind the top nations in Asia, the middle-class nations will make it a very open competition in which anyone can beat anyone.
The players of Syria are widely spread out all over Asian leagues. One player in the squad plays in Europe. Midfielder Mohammed Osman is currently playing for Heracles Almelo in the Dutch Eredivisie. Syria has a bit of an inexperienced captain in the person of Omar Al Somah, who is 28 and played 17 caps until now, in which he scored seven times. Their top goal scorer is Omar Kharbin with 16 goals in 37 caps. With 54 caps, Mahmoud Al-Mawas is their most experienced player in the squad.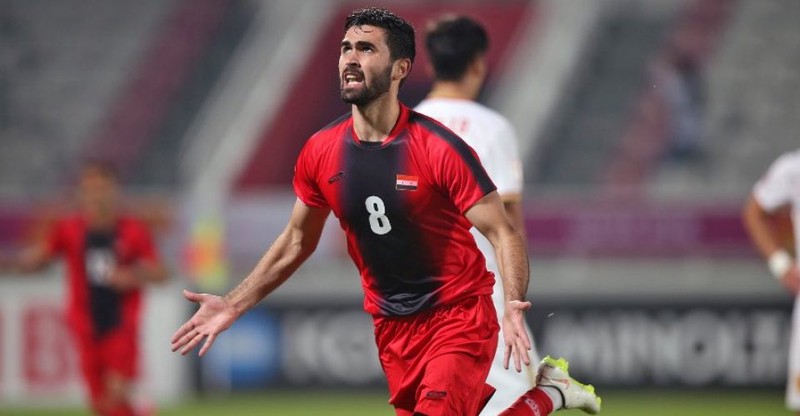 Group C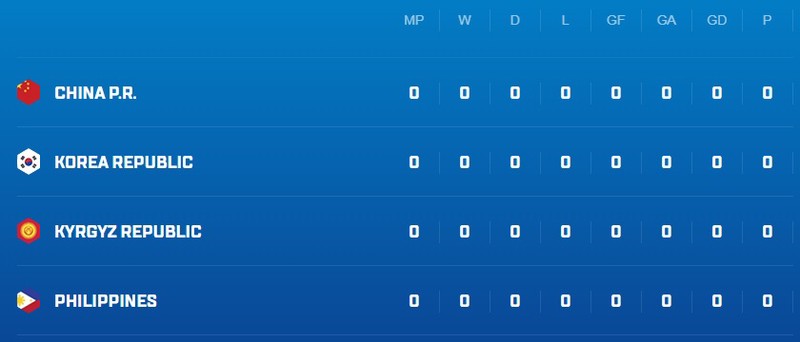 China People's Republic (FIFA Ranking 76 / Elo Ranking 80)
Like with India, for me it's completely not logical that China isn't better at football than what they currently are. In potential they should be at least a top 50 country, if not even higher than that. For some reason that is not really happening over there. Marcelo Lippi is the current coach and will leave the team after the Asian Cup. He has selected quite an experienced group of players, rather than a team full of young talents that will need to grow into better players in the future. On average the Chinese squad is among the oldest squads of the tournament. China only had one win in their preparation of the tournament, against Syria. Other than that they recorded four draws (0-0 against Bahrain and India, 1-1 against Palestine and Jordan), and lost two matches against Iraq and Qatar. For me, it's not that clear that China will be able to make it out of the group in this tournament.
Lippi did not select any player who is active outside of China. The Chinese Super League has definitely improved the last couple of years, with the addition of quite some quality players from abroad. Question is how well the Chinese players in that league are. Former Celtic player Zheng Zhi is the captain of the team, currently aged 38. With 104 caps he is also the most experienced player in the team, together with Gao Lin, who has the same amount of caps. Gao Lin scored 21 goals in those 104 caps, which is the most goals by a single player in the squad. There are two players with a better average when it comes to goal scoring in the squad. Wu Lei scored 13 times in 59 caps, whereas Yu Dabao scored 17 times in 51 caps. Yu Dabao was part of Benfica team for a while, but never played any match for them, he was loaned out to a couple of other Portuguese teams, however.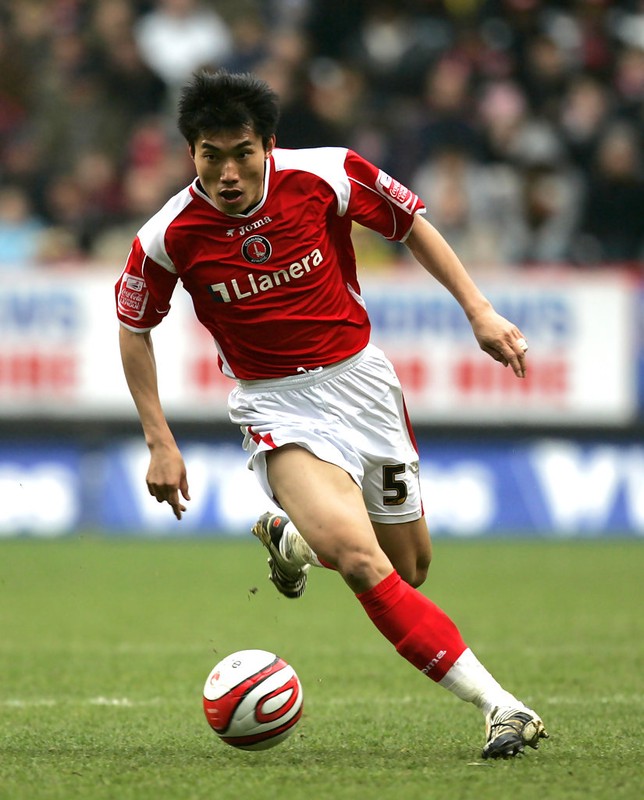 Republic of Korea (FIFA Ranking 53 / Elo Ranking 23)
The Korean Republic or South Korea is without a doubt a title contender and the biggest favorite to win this group. They are currently on an unbeaten run of eight matches, that started with their famous 2-0 win over Germany at the FIFA World Cup. That win wasn't enough for them to qualify for the next round of the World Cup, but it was enough to eliminate the German team from the World Cup. After that, they won friendlies against Costa Rica, Uruguay, and Uzbekistan, whereas there were draws against Chile, Panama, Australia and Saudi Arabia. I expect South Korea to extend their unbeaten run for at least another three matches during this group stage.
Looking at their squad we can see that national coach Paulo Bento selected quite a few players that are active in Germany and in England. The biggest name in the squad is, of course, Tottenham star Son Heung-min, who is also the captain of the team. He is one of the best scoring midfielders in the world at the moment and should be able to produce and score a couple of goals throughout this tournament as well. The most experienced player with 108 caps in the squad is another player who plays in England, at Newcastle United to be exact, Ki Sung-yueng.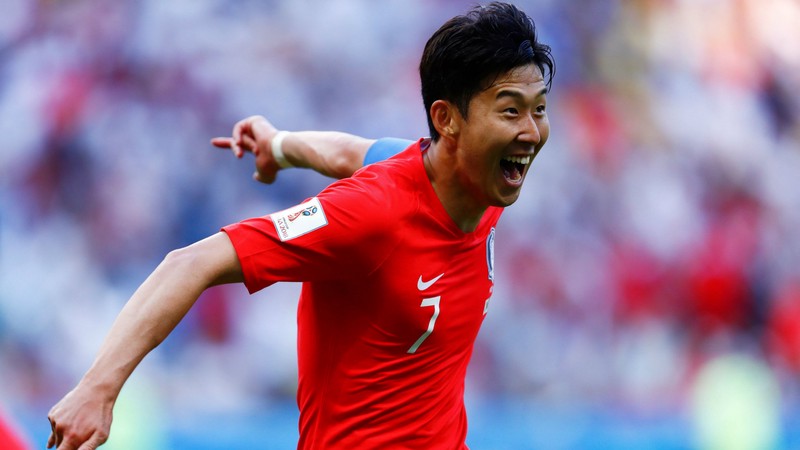 Republic of Kyrgyzstan (FIFA Ranking 91 / Elo Ranking 140)
The Republic of Kyrgyzstan, will make their debut at the Asian Cup and are a country to pay attention to. This fairly inexperienced squad has climbed up the FIFA ladder pretty quickly and are currently in 91st position. Their Elo rating is only 140th though, which would indicate they are among the weakest teams at the tournament. This is a bit surprising to me when I look at the latest results in their preparation friendlies. Sure, they lost against Japan and Qatar, but they managed to win against Syria, Malaysia, Jordan, and Palestine. They might not be good enough to challenge South Korea, but China and the Philippines (the last nation in this group) will have to prove themselves against this side if they want to continue further.
I said the squad is relatively young, as their most experienced player is goalkeeper Pavel Matyash, with 37 caps. The squad is however used to play together, as 14 players in the squad have between 19 and 37 caps, meaning the first eleven is pretty much secure and will be filled up with more or less the same players, and the used substitutes are likely to be the same players too. Their main striker is Mirlan Murzaev, who scored eight goals in 35 caps, but their most dedicated goalscorer is Anton Zemlianukhin, who managed to find the net twelve times in 26 international matches.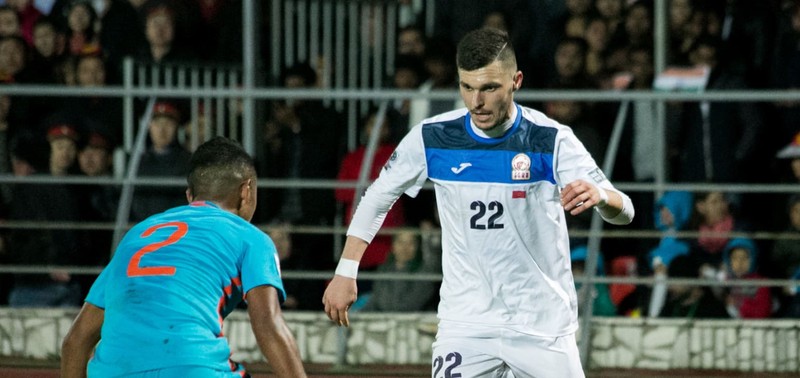 The Philippines (FIFA Ranking 116 / Elo Ranking 169)
The Philippines just missed out of qualification for the Asian Cup in 2015 and will be very happy to be part of the expanded setup this time. To prove that they take their qualification serious they arranged a lot of friendlies before the tournament. They played twelve international matches between 6 September 2018 and 31 December. They won four of these matches, all against teams not qualified for the Asian Cup though, another four matches ended up in a draw, three of those teams (Bahrain, Oman, and Thailand) are present at the Asian Cup. They lost the other four matches, against Tajikistan and a total of three times against Vietnam, whom they faced on the 2nd, 6th and 31st of December.
They are managed by former England boss Sven-Göran Eriksson and the majority of the players in the squad either play in the Philippines or in Thailand. Three of the players play for smaller teams in Europe. When we talk about football in the Philippines, it's all about the Younghusband brothers. Phil and James Younghusband are the most experienced players in the squad. They both play for Davao Aguilas in their home country. Phil is the captain of the team and played 105 caps so far, scoring 52 times in these matches. James managed to score twelve times in 100 caps.
Group D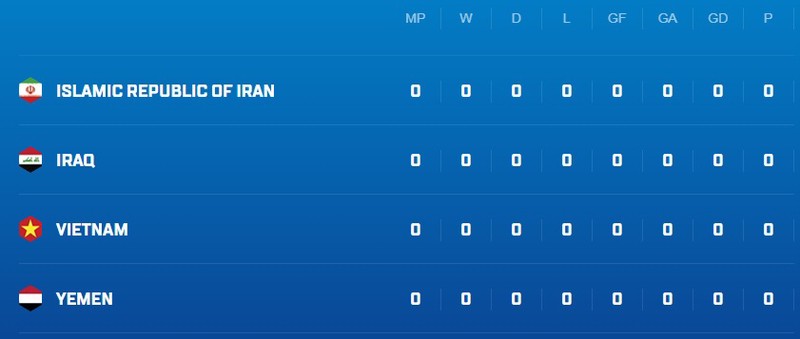 Iran (FIFA Ranking 29 / Elo Ranking 19)
Currently, Iran is the highest ranked team in Asia, both on the FIFA ranking, as well as on the Elo ranking. Therefore, they must be considered to be one of the teams that could lift the trophy at the end of the competition. Iran was eliminated in the group stage of the 2018 FIFA World Cup, but they were drawn into a very tough group that contained Spain and Portugal. Their last match in the group was against Portugal and that ended in a 1-1 draw. After that match, Iran played six more matches. Four of these were won, the most impressive one supposedly against Bolivia. Two matches ended in a draw, against Venezuela and Palestine. This means Iran is currently on a streak of seven games without losing.
Carlos Queiroz is still their manager called up a young, but experienced squad, of which nine players are active in European leagues. Alireza Jahanbakhsh and Sardar Azmoun are the most famous names in the squad. Azmoun who plays for Rubin Kazan in Russia scored 24 goals in 41 caps and is, therefore, their main goalscorer. Masoud Shojaei is the captain of the team, whereas Ehsan Hajsafi already played 101 matches for Iran. Other names to look out to would be Karim Ansarifard and Mehdi Taremi.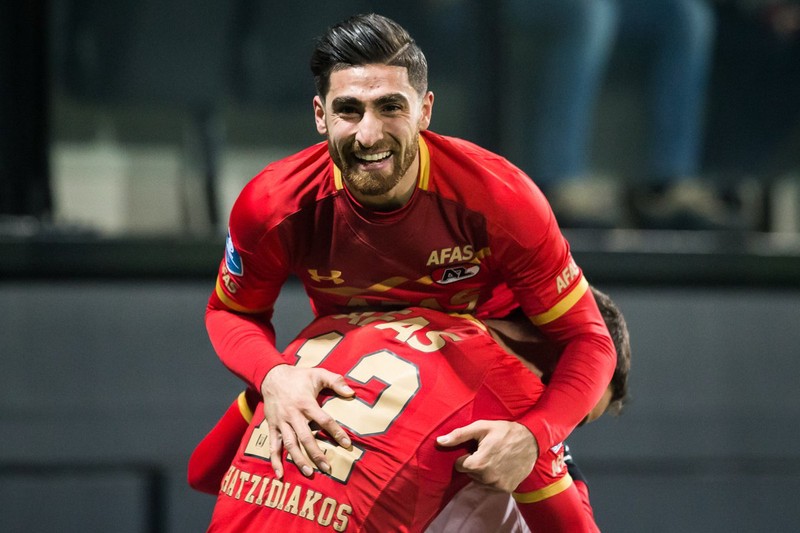 Iraq (FIFA Ranking 88 / Elo Ranking 63)
Another team that is on a good spell is Iraq, despite losing 4-0 against Argentina in October 2018. If we don't take that match into consideration, then they are unbeaten for a total of six matches now, which includes wins over Palestine (twice) and China. They recorded draws against Kuwait, Saudi Arabia, and Bolivia. Iraq certainly should be considered to be able to qualify out of the group into the knock-out phase of the tournament.
Probably the two most known players in the squad of Iraq are Ali Adnan, who is a defender playing for Atalanta Bergamo, on loan from Udinese, and Osama Rashid, a midfielder at Portuguese side Santa Clara. The captain is goalkeeper Mohammed Gassid, whereas defender Ahmad Ibrahim is the most experienced player with 80 caps. The real issue in the squad is the goal scoring ability, as they didn't seem to have someone who's easily able to convert chances into goals. Ahmed Yasin scored only six goals in 59 caps, but luckily they found a young talent who has been raising the roof recently. Mohanad Ali also scored six goals in only eleven caps.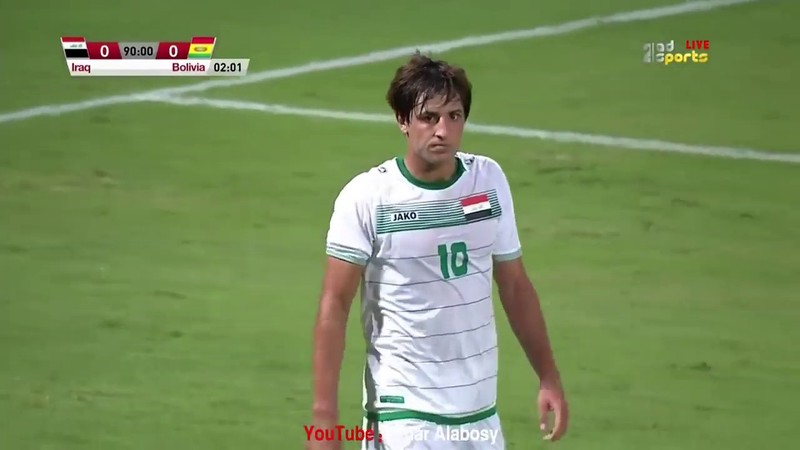 Vietnam (FIFA Ranking 100 / Elo Ranking 124)
If there is one nation in this group that can challenge Iran and Iraq, that would be Vietnam. Just like the other two nations Vietnam is on a very good streak of 10 unbeaten matches. Out of those matches, seven were won, and only three ended in a draw. One of the draws was against North Korea, three of the wins were against the Philippines. The other matches were all against opponents not present at the AFC Asa Cup.
The Vietnamese squad exists of only players who are playing in their home country. The squad contains five players who yet have to make their debut and another ten players who only have 12 caps or less. They only have seven players in their squad who played 15 caps or more, of which Nguyễn Trọng Hoàng has the most caps with 57 in total. He is also the one player with the most goals in his international career, 12 to be exact. I am curious to see what this inexperienced squad who had good results in their preparation to the tournament will be able to show.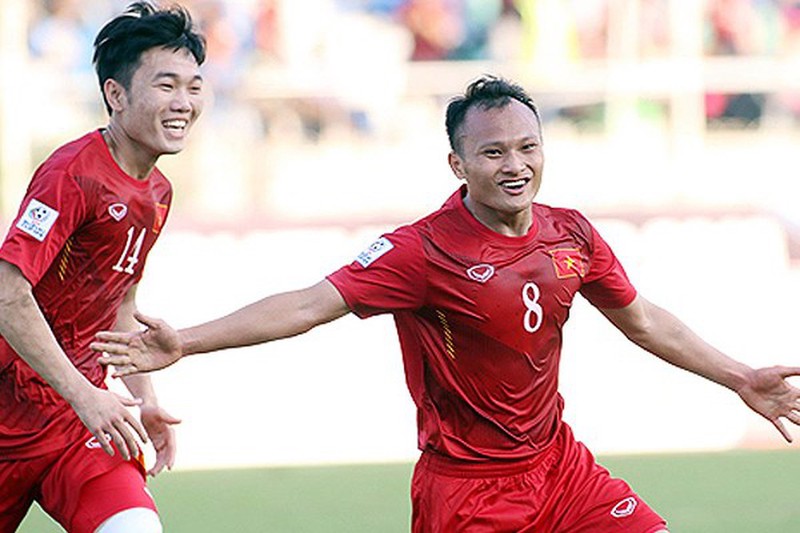 Yemen (FIFA Ranking 135 / Elo Ranking 164)
Yemen seems to be the ugly duck of the group. Whereas all the other three teams hold positive records in recent matches Yemen cannot say that. They only played three matches towards this tournament, and they lost all three of them. There were 1-0 defeats against Saudi Arabia and Syria, whereas they lost 2-0 against the United Arab Emirates. It is very hard to judge if Yemen can do something positive in this tournament. The odds aren't that well, from what I can judge.
Still, their squad seems to be fairly experienced with a lot of players earning more than 20 caps. Star player of the squad without a doubt is Ala Al-Sasi. He is the captain of the team, he has the most caps on his name (87) and he has scored the most goals (14) so far. Young striker Ahmed Al-Sarori seems very promising, as he scored three goals in nine international matches.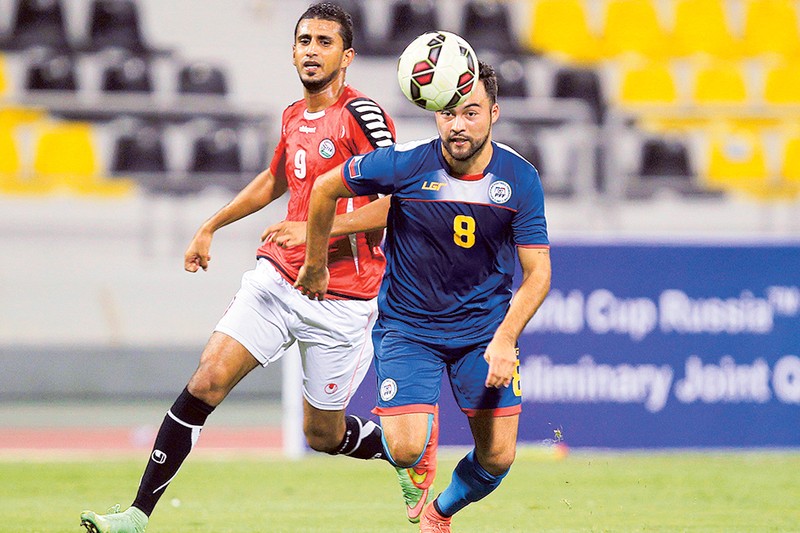 Group E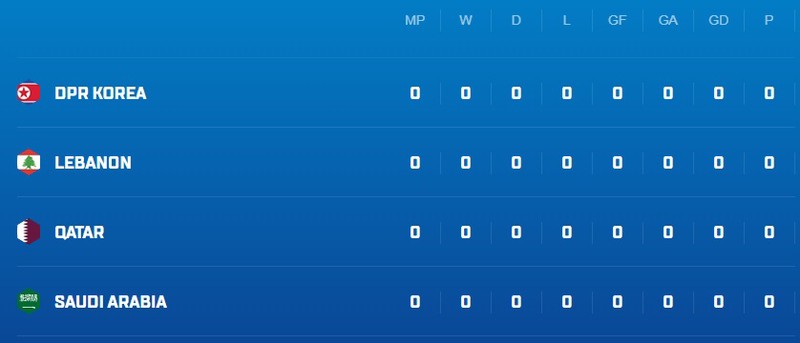 Democratic People's Republic of Korea (FIFA Ranking 109 / Elo Ranking 100)
The Democratic People's Republic of Korea or North Korea is a country that occasionally can cause an upset. They even managed to qualify for the 2010 FIFA World Cup, but that is already quite some time ago now. The current squad in all fairness doesn't look too strong and I don't think that we should expect too much from them in this competition. They won two matches during the preparation period, but they were against weak nations Mongolia and Chinese Taipei. They managed two draws against Hong Kong and Vietnam and lost twice, 2-0 against Uzbekistan, and a heavy 4-0 against Bahrain. With North Korea you never know, it could easily be propaganda, and they could come up with the best team Asia has ever seen.
Star player of the squad is Jong Il-gwan, who currently does not have a team. He will most likely have prepared very well for the tournament, but the question is if he will be match-fit. Surprisingly enough three people in the squad play in Europe. Han Kwang-song plays for Perugia, Choe Song-hyok for Arezzo and Pak Kwang-ryong plays for FC Sankt Pölten in Austria, he has scored 13 goals in 34 caps. Most caps are on the name of goalkeeper Ri Myong-guk, who is also the captain. He has played a total of 102 international matches so far.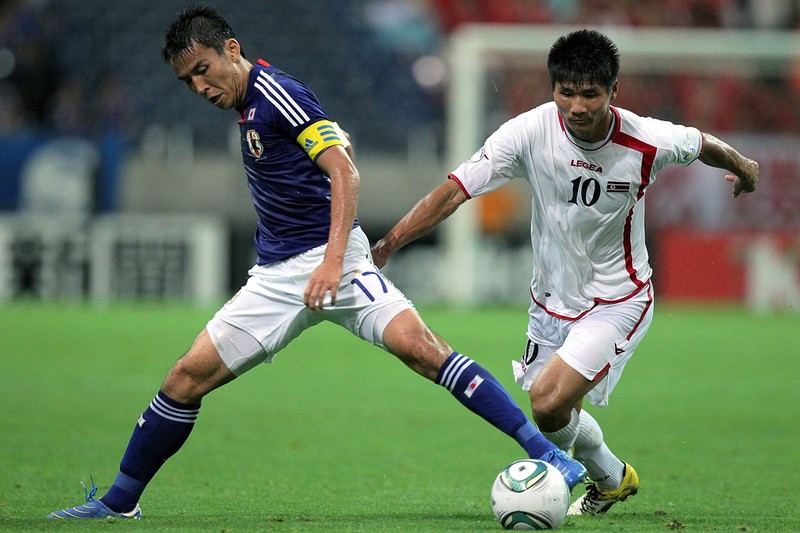 Lebanon (FIFA Ranking 81 / Elo Ranking 91)
Also, Lebanon cannot look back at a splendid preparation for the Asian Cup. They started off well though with a 1-0 win over Jordan. It turned out to be the last match they won though. There were two 0-0 draws against Oman and Uzbekistan, and three defeats against Kuwait, Australia, and Bahrain.
The Lebanese squad contains four players who play their matches in Europe. At AFC Eskilstuna play brothers Robert and George Melki. Hilal El-Helwe plays for Apollon Smyrnis and Bassel Jardi is a Hajduk Split player. These are all new players who do not yet have many caps. The one with the most caps (72) is also the one with the most goals (19) and his name is Hassan Maatouk. He is not the oldest player in the squad, but he has been chosen to be the captain during the tournament.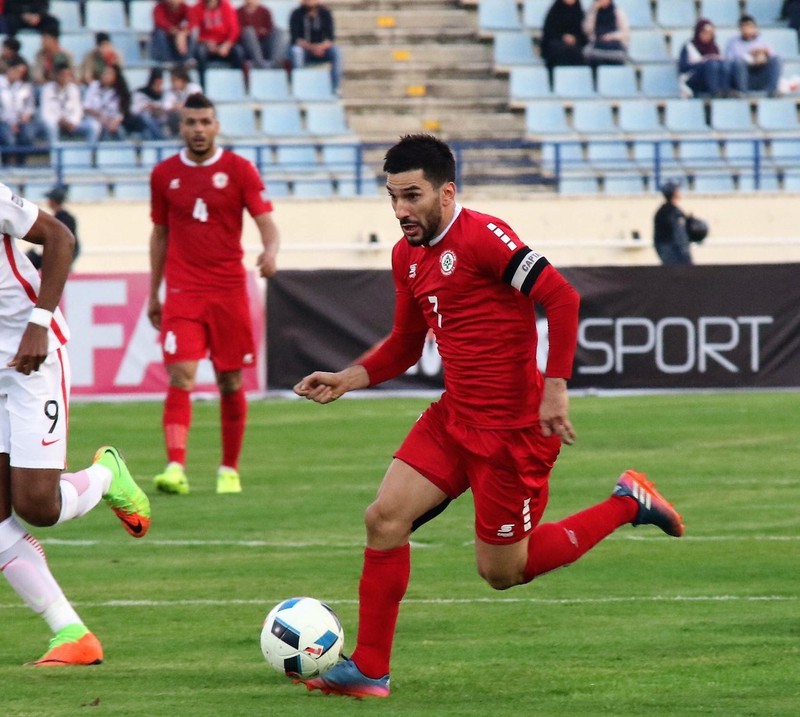 Qatar (FIFA Ranking 93 / Elo Ranking 77)
It will be a good opportunity to get familiar with the team of Qatar, who will host the 2022 FIFA World Cup. Manager Félix Sánchez will be looking forward to the goals scoring abilities of young talent Akram Afif, who so far scored 11 times in 35 caps. The most capped player is Hassan Al-Haydos, who is also the captain of the team, as well as the one with the most goals on his name.
Qatar played ten matches as a preparation for the tournament, six wins, one draw, and three losses. The losses were against Uzbekistan, Algeria, and Iran, certainly not the weakest countries out there. The draw was against a strong European nation, Iceland. The wins were recorded against China, Palestine, Ecuador, Switzerland, Jordan, and Kyrgyzstan. Such results should be enough to reach the knock-out phase of the Asian Cup as a bare minimum.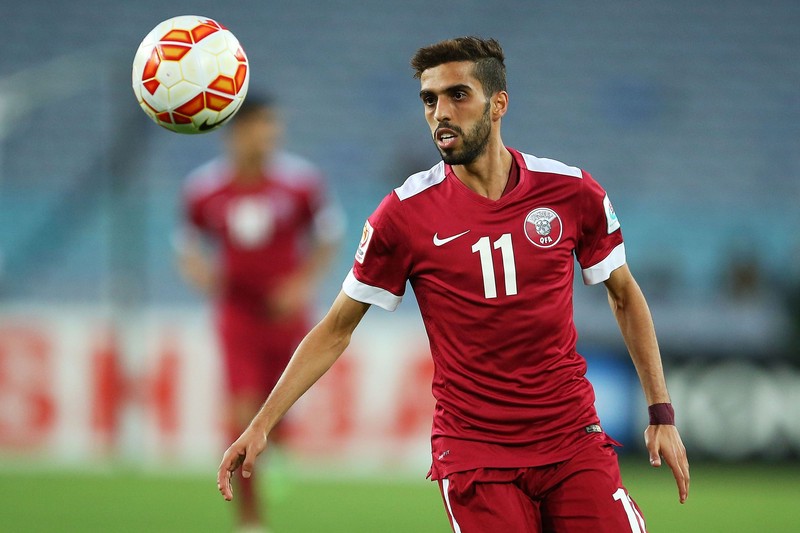 Saudi Arabia (FIFA Ranking 69 / Elo Ranking 62)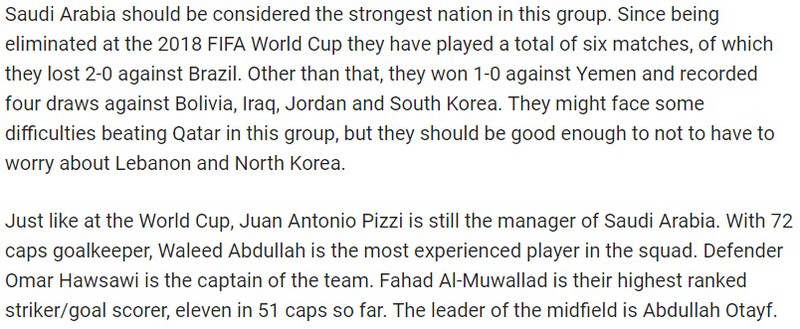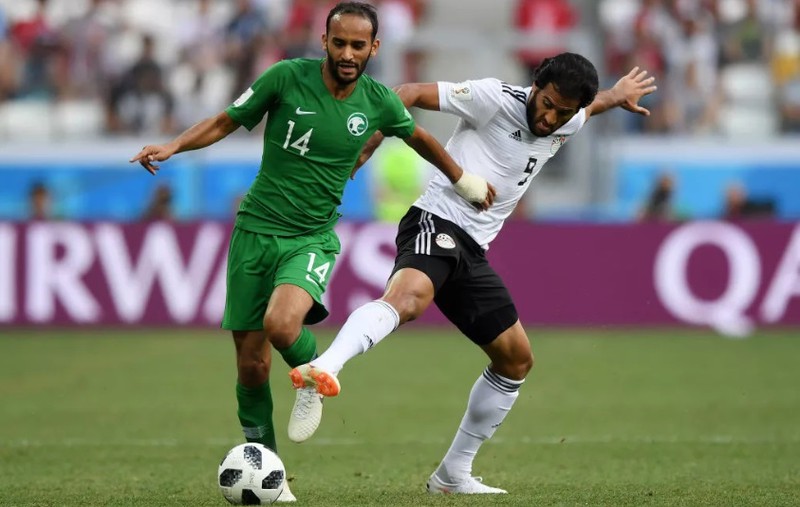 Group F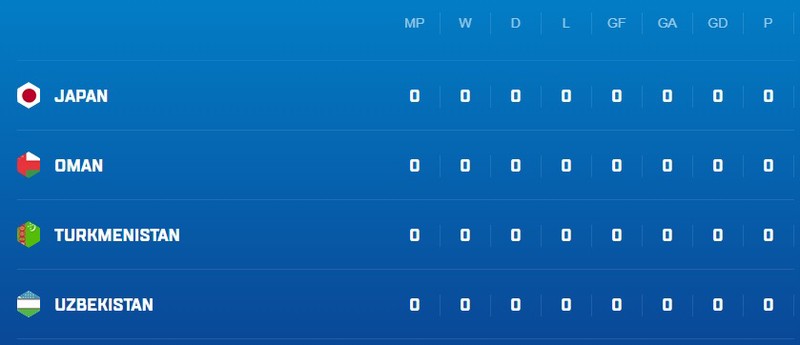 Japan (FIFA Ranking 50 / Elo Ranking 36)
Japan is the big favorite to win this last group, and should normally do so with three wins. They are sending in a squad which is a good mixture of young talents and experienced players of the older generations. Southampton defender Maya Yoshida is the captain of the team and with 89 caps one of the more experienced players. It may be clear that Japan builds up from a strong defense, as their most experienced player is also a defender. Yuto Nagatomo has already played in 110 matches for Japan. Takumi Minamoto has been impressing for Red Bull Salzburg in the Europa League this year, but also already scored four goals in just seven caps. Yuya Osako will lead the attack. His 10 goals out of 37 caps do however not sound too impressive. 20-year-old talent Ritsu Doan will need to help him score the goals.
Japan is still unbeaten after their tragic last-minute loss against Belgium at the 2018 FIFA World Cup. They won impressively 3-0 against Costa Rica, 3-0 against Panama and 4-3 against Uruguay. Against Venezuela, there was a 1-1 draw, which was followed by a 4-0 win over Kyrgyzstan.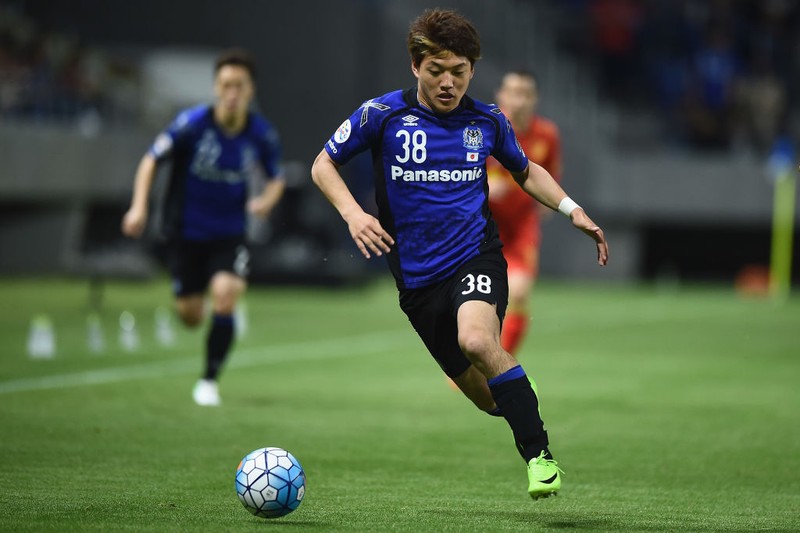 Oman (FIFA Ranking 82 / Elo Ranking 74)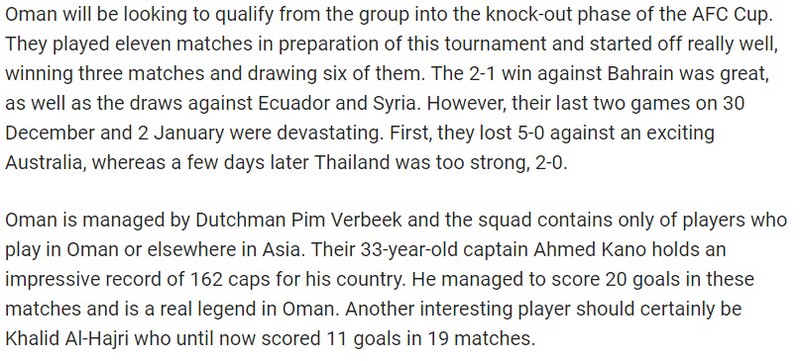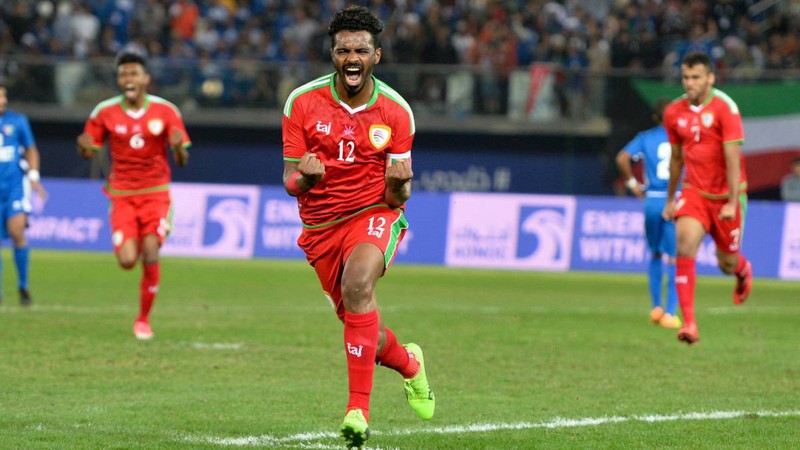 Turkmenistan (FIFA Ranking 127 / Elo Ranking 150)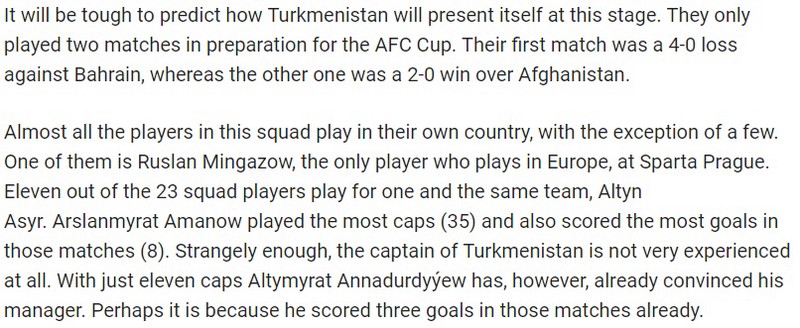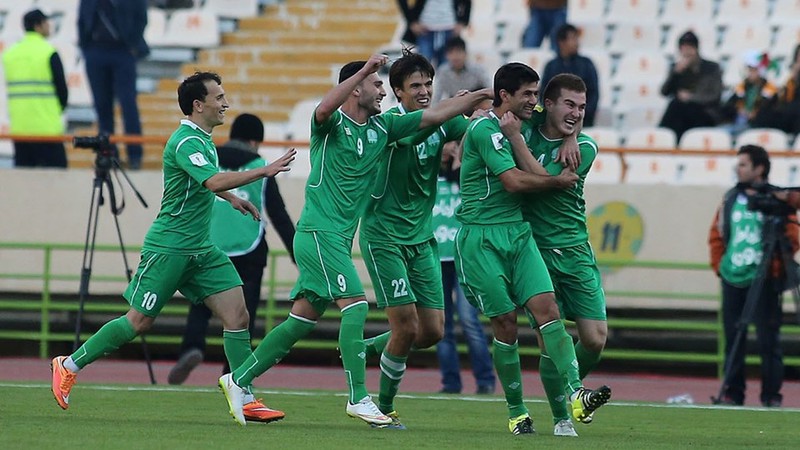 Uzbekistan (FIFA Ranking 95 / Elo Ranking 60)
The last nation to be discussed in this preview is Uzbekistan, who should be able to compete with Oman for the second place in the group. They won two games recently against North Korea and Qatar, drew against Lebanon and Syria, and lost against Uruguay, Iran and South Korea. To me, that qualifies them in the middle-class teams of this tournament.
Héctor Cúper is their manager and he has selected quite some experienced players in his squad. Three players have over 90 caps, goalkeeper Ignatiy Nesterov (99), defender Anzur Ismailov (93) and midfielder Odil Ahmedov (91), who is also their captain and the player with the most goals (17).