Today's date is the 12th of February 2018 and 18 years ago in 2011, Ghanaian football club Accra Hearts of Oak was crowned 8th in the CNN/World Soccer weekly rankings. This feat was achieved shortly after Accra Hearts of Oak had beaten Egyptian side, Zamalek by 2 goals to nil in the CAF Super Cup at the Kumasi Sports Stadium. They are still the only Ghanaian team to reach this heights.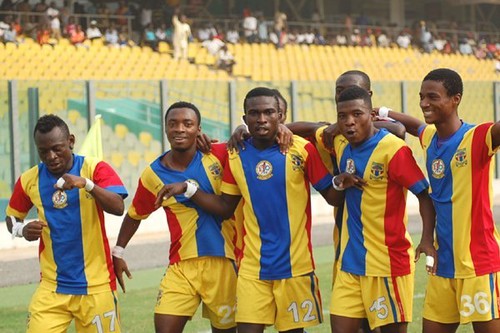 Here is the CNN/World Soccer top 10 list.
Rank Team Country Points
(1) As Roma Italy 90pts
(2) Boca Juniors Argentina 89
(3) Real Madrid Spain 83 pts

(4) Manchester Utd England 81pts

(5) Bayern Munich Germany 60 pts
(6) Deportivo La Coruna Spain 53 pts
(7) Vasco da Gama Brazil 48 pts
(8) Hearts of Oak Ghana 26 pts
(9) Arsenal England 25 pts
(10) Lazio Italy 22
This was before the likes of Chelsea and Man City had the money they have now. Accra Hearts of Oak was formed in Ghana on the 11th of November, 1991 by Asafoatse Nettey a warrior, Sinin-Okraku brothers, The Solomon duo, the Bruce-Tagoe Brothers and some others. It has a reach history and it's currently the oldest football club that still exists.
Accra Hearts of Oak is the only Ghanaian team that has won all 3 continental competitions, that is the CAF Champions League, CAF Confederation Cup and the CAF Super Cup. Even though the club had been formed much earlier, They won their first major match in the year 1922 in the Accra Football League formed by the governor of the then Gold Coast (now Ghana), Sir Gordon Guggisberg and has flourished since then.
They had their worst moment in the year 2001 where 127 people lost their lives during a match against their arch rivals Kumasi Asante Kotoko on the 9th of May. The was a goal allowed by the referee which Kotoko supporters didn't agree with and they protested aggressively and the gates out of the stadium were locked with the police firing tear gars to control the crowd. It's still Africa's worst football disaster to this day.