Statistics Premier League 2018/2019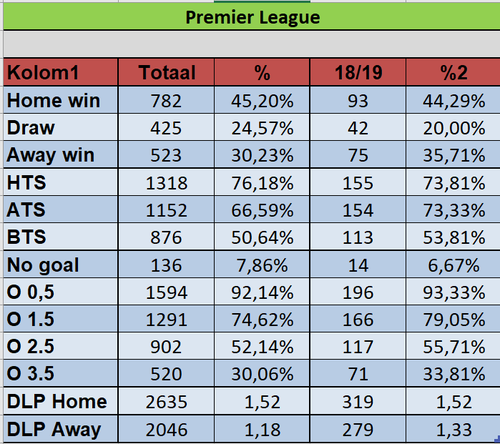 The three draws in round 11, did make the Draw percentage climb with 0.5%. Still 9 draws less than expected, which is actually a huge difference. The home wins are also down again, the 2 home wins of the past round didn't help. That means that we have another 5 away wins, which did increase the season average with 0,71%.
No big changes in the averages of the BTTS and Over 2.5 games.

Standings

If we look at the positions of the top 5 of the ranking, well they are all on the same place as after round 20. Still there are some major changes. City's win against Liverpool kept the race for the title tense. Liverpool still has a 4 point lead but a City loss would have pulled all excitement out of the competition.

United keeps on winning and is putting pressure on Arsenal for the fifth place.
At the bottom Burnleys win away at Huddersfield did put them on a safe place. Southampton now is on place 18. Fulham still can have hope but besides a miracle Huddersfield will relegate.
Round 22

Man United will have a first real test against Tottenham in the After Mourinho period. Probably Lukaku will move back to the bench and Rashford will be the leader of the attack.
Huddersfield will have to travel to Cardiff. Is this the game where the miracle will start?
Fulham also needs a win, the keep their chances in the Premier League alive.

Don't bet blind according to this prediction model. Use it as an extra reference point!
Cheers,
Peter