Round 23 of the Jupiler Pro League will kick off on Friday! With an always interesting match between Antwerp and Standard! Let's see what the model and I personally think about this round!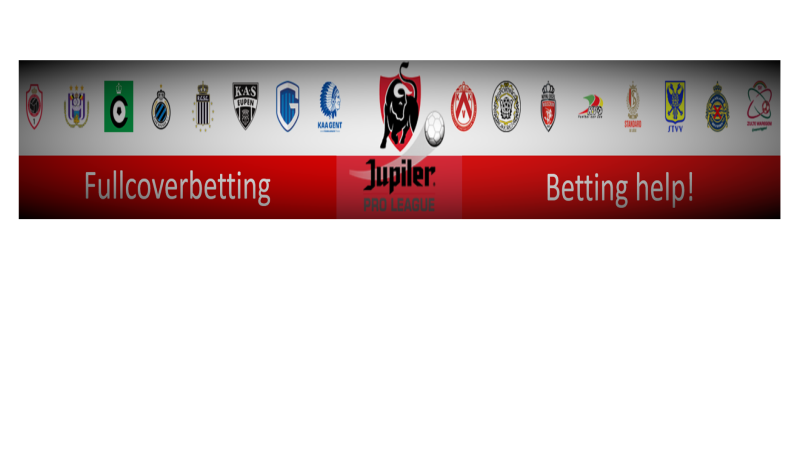 The model

Let first have a look what the model does think about this round!

What first of all is amazing is that the model does predict 10 1-1 draws as correct score. I really doubt that this will happen!
Antwerp - Standard


The games between these two are always interesting. Both team have a rather hard and direct playing style, so I won't be surprised to see a red card in this game!
In the first game these season between these two teams 7 yellow cards were handed it. And that was early in the season! Now it is getting close to money time!
Antwerp is more or less sure about a spot in Play off I while Standard still has a lot of work to do to get there. So win for Standard is more or less obliged!
I am not surprised that the correct scores from the model do predict a draw. Both models do disagree who is the favorite for this game. Antwerp won easily in round 22 away at Zulte, while Standard had a though win against Kortrijk!
These are my bets for this game:

Charleroi - Waasland-Beveren
Both teams are fighting a different battle! Charleroi do want to play Play Off 1, while Waasland will be glad if they are safe at the end of the season!
The away statistics from Waasland aren't actually great this season. Only 2 wins, 3 draws and 6 losses. Add to this a negative goal ratio of -10 away from home. And you know who will be the favorite to win this game.
Charleroi could have a little set back from their surprise victory at Club Brugge! But their home stats are pretty decent with 7 wins, no draws and only 4 losses. 21 out of their 33 points were obtained at home!

Both models do see Charleroi as a clear favorite and I do think that they are right about this. The question is if the odds will be good enough to place a bet on it!
If not then you can always have a look at the Over 2.5 odds!
Cercle Brugge - St Truiden

Cercle Brugge is one of those teams who play completely different at home compared to away games. Away from home, they try to defend their premises, while at home they do try to have the ball in the team!
St Truiden suffered another blow during the winter transfer season. Bezus, their playmaker, has been sold to AA Gent (a direct competitor for a spot in Play Off 1). The players explicitly let St Truiden know that we really wanted to go, because of the Salary increase he would get!
With still the Japanese internationals at the Asian Cup, I do think that Cercle has a chance to win this game.

The models are very convinced that this will be an over 2.5 game. 72% of the home games of Cercle did end in an over, while St Truiden had 54% of their away games with more than 2.5 goals!
Too bad the bookmakers also know these stats. Because St Truiden can't afford to loose points in their chase for a Play Off I ticket and with the absence of Bezus, Brys will probably choice a more defensive approach. There for, there could be value in the under which will have odds around 2.08!
Lokeren - Waregem

Lokeren is quite the opposite of Waregem. De Boeck will be their third head coach of the season, while Waregem still have Dury as head coach. His 16th year as head coach for Zulte!! Impressive. For sure if you know that both this and last season, Zulte had relegation worries. Still they kept their confidence in their coach! Kudos for that!
I already did mention that Zulte did some great transfer during the winter period! This will give them an extra touch in these games. If Zulte wins than the gap with Lokeren will be increased to 9 points, which should be enough to prolong their stay in the Jupiler Pro League.
Lokeren does hope that the new manager can bring in some motivation and set up a soled defense!

The models do think that it is too close to call, so a X2 bet could be a great one! Also here I do suspect an under. De Boeck will first start with changes in the defensive compartment because those changes take less time than changing the complete playing style, Zulte will be glad if event this game the gap will still be at least 6 points, so they won't run bling into attacking mode. This combined could result in a 1-0, 0-1 or 1-1 game. But as always an early goal could force the other team to take more risks which could turn these games in very interesting ones!
Genk - Mouscron

On paper this is no doubt about it. Genk will keep the 3 points at home. But Mouscron always troubles Genk. Don't know why, but there are (just like Charleroi) more or less a black beast to them! If have seen games between Genk and Mouscron, where Genk were dominating and in full attack mode, hitting posts and bar, having chance after chance and the results were always the same. 1-1!
Probably the odds will be blow 1.2. Which is just not good enough to place a bet on!
There could be more value in the over. Genk scores on average twice per home game, while Mouscron has a negative away goal ratio of -10!
If you can find odds for the over from more than 1.5 I wouldn't doubt! Until then no bets on this game!
I will discuss the Sunday games on Saturday evening!
Good luck with betting on Betscorum!