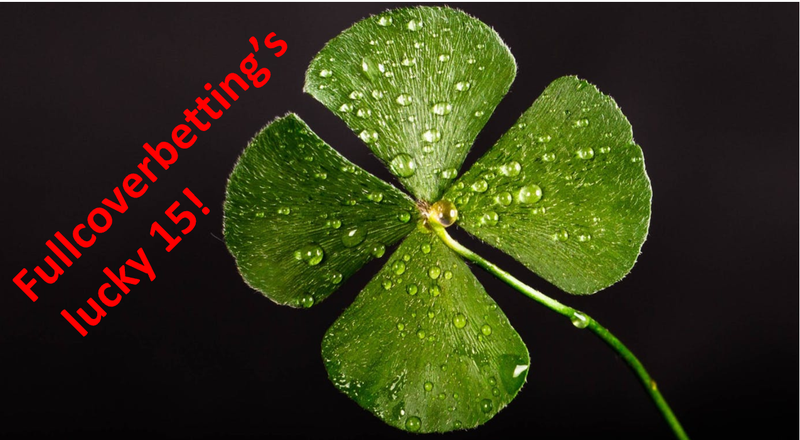 Let me introduce you to my new challenge. I will be trying to make a profit with a lucky 15 bet based on the correct score of the football games! I will give myself 10 tries and evaluate the challenge after this.
---
What is a lucky 15 bet?
The base of a lucky 15 bet in a fourfold parlay bet. So on the betting slip there will 4 selections.

These 4 selections will be played as a single, all possible doubles, all possible trebles and of course the fourfold. This results in 15 bets, hence the name the lucky 15 bet!
4 singles (A, B, C, D)

6 doubles (AB, AC, AD, BC, BD and CD)
4 trebles (ABC, ABD, ACD and BCD)
1 fourfold (ABCD)

The lucky 15 bet is mainly used in horse betting, where people do try to combine the winners of 4 races, but is also suited for all bets (selections) where the odds are high enough.

Within a lucky 15 bets with high enough odds, it could be enough to only have 2 selections correct to make a profit. But this is only the case of the odds are above 3.
The ante on each combination is in a real lucky 15 always the same! So 15 bets, means a total ante of 15 units.

Let's take 2 examples, in both examples the bettor would have select A and B correct, and misjudged C and D. This would result in the case where A, B and AB will be paid out.

Example 1: Odds of 2
A would pay 2, B would pay 2 and AB would pay 4. A total payout of 8. But because the ticket did cost 15, you will have a loss of 7.
Example 2: odds of 4
A would pay 4, B would pay 4 and AB would pay 16. Hence a profit of 9 units. (24 (payout) - 15 (ante)).
---
How can it be used in football games
In my opinion there are only 2 markets where the odds are high enough to make a profit. These are:
Draws
The average odd for a draw is most of the time around 3.5. This would be enough to make a profit if 2 draws land!
Correct score
The lowest odds for the correct score are normally around 6.25 and can go up with 25 and higher. This make this an excellent playground for the lucky 15 ticket.
Yes the correct score betting is the hardest thing to do in football. It is sometimes hard enough to predict a winner, let alone with how much they will win.
But if you can land a correct lucky 15, money flows is. We are talking here about a pay-out above 10K units!

With such a pay-out the term lucky in the lucky 15 is for sure not stolen. So, I would only advice to play them with an ante of 0.1 unit per bet. So, 1.5 units in total.
It is also best that only use game where you really think that you can predict the winner of the game!
---
Here is my plan!
I will play 10 lucky 15 bets. One of Friday, one on Saturday and one on Sunday. If there are Champions League of Europa League midweek games, I will play one lucky 15 on the Champions League and one on the Europa League.
I do consider this my guilty pleasure in sports betting. Still I will be incorporated in my monthly overview. As a sports bettor you do need to track everything.

After 10 bets, I will draw my conclusion and see if I am willing to chase the jackpot!
I will keep track of my record and this record will be shared each new lucky 15 post!
Today's lucky 15!

As you can if this lucky 15 will land, I will get back 1316 units for a bet of 1,5 units.
But even in the case that I will only have predicted the outcome of the 2 lowest odds correctly I still will make a profit of 6.95 units.
But more than probably I will not win anything and the bookie will take it all.
But still it is not a bad idea to play such a ticket once in a while. The algorithms of the bookie do pick it up, and qualify you as a gambler, which will result in the fact that your account will last much longer at the bookie (if you are a consistently winner bettor).

Tomorrow's lucky 15 will be based on the Lars and the Nyls.
Cheers,
Peter