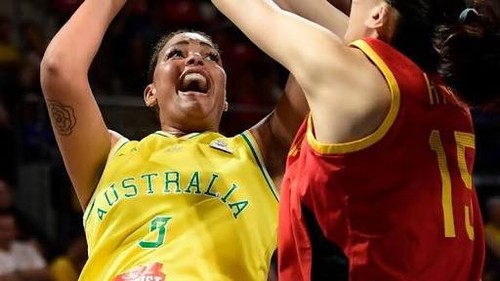 One of my enjoyable activities for the week was spending some quality time with friends off work watching the ongoing Women's basketball World Championships holding in Spain. The entire duration of the tournament is just 7 days and is billed to finally conclude tomorrow.
Nonetheless it has been seven days of High intensity, great quality action that has sprung up more than a few surprises. Perhaps the only constant was expecting the USA to progress safely to the Finals as always and they certainly did not disappoint. It will be USA vs Australia battling for the Trophy tomorrow.
Australia has been the team I have enjoyed most in the tournament with their sensation Liz Cambage leading them with incredible performances. Undeniably the best in the World right now, she single handedly gave the Aussies victory over hosts in the semis with 33 points to her name. The Aussies stand a chance tomorrow because of her.
Nigeria were the surprise package of the competition, making it all the way to the Quarter finals and beating Turkey, Greece and Argentina along the way. Although they fell to the US, it was almost looking like an upset in the cards when they won the first quarter by 9 points. It certainly signals promising signs for African basketball, although it must be said that the bulk of the Nigerian players are American born.
Finally the USA has showed the stuff champions are made of when it matters. They have not needed to play well as the class obviously shows they are heads above the rest. No doubt they remain the overwhelming favorites to clinch the title even though I won't rule out Australia as long as they have Liz Cambage.