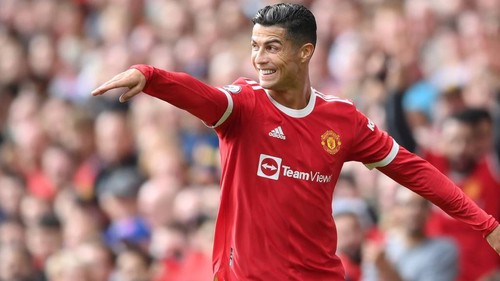 A king would always be a king wherever he finds himself and that's why the life of Cristiano Ronaldo inspires me a lot.
The Portuguese forward moved back to Manchester United a few weeks ago and his presence really brought lots of attention to Manchester United, sometimes I believe we shouldn't be expecting more from the 36 years old since footballers at his age are known to be less productive in action.
We expected to see him in the red shirt but he didn't feature until on Saturday against Newcastle. Believe me, if I said he hasn't aged a bit since he left United for Real Madrid many years ago. He was active and charging at goal, it made me admire him the more.

United couldn't get a goal early in the first half against Newcastle and I thought they wanted to be a show spoiler for Ronaldo just like Crystal Palace did to Tottenham but the king himself stepped up to change the story.
Ronaldo gave Manchester United the lead before heading into halftime, the goal came in just a few seconds before the halftime whistle.
Newcastle got an equalizer a few minutes into the second half and Ronaldo didn't hesitate to put United in the front again when he had the opportunity to do so. The goal marked his second on his debut and that shows how promising he is to the United squad.
Goals didn't stop flying in as Bruno Fernandez and Lingard also registered a goal each to put the match out of reach for the opponent with fantastic strikes.
Looking forward to a great season with Ronaldo in Manchester United.