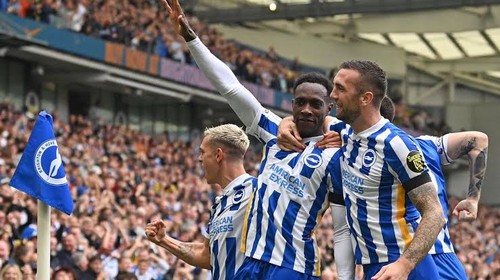 I think we have a new challenger among the big spot on the English Premier League table that caught my attention a few minutes ago while I was going through the table.
Certainly, a lot of football fans around the world are not paying attention to the rise of the new club that can go as far as challenging for a Uefa spot in the EPL this season. I was hoping to see Everton or Westham United challenge the big team's but it looks like they got tired quickly with both sides have injuries and red card issues to battle with.
Brighton has seized the opportunity to find a spot not just anywhere but among the top four teams on the table, they got that position after defeating Leicester City over the weekend. The victory marked it their fourth of the season as they have only lost to Everton this season in the English Premier League.
They have defeated the likes of Leicester City, Watford, Brentford, and Burnley in the league, they are can be tough, and getting past them means a lot.

The team has shown some sort of determination that would make them go far this season if my prediction is right. The team has successfully overtaken the likes of Arsenal, Manchester City, Leicester on the league table.
Aside from conceding twice against Everton, they have been able to maintain a balance between their attack and defense. They ain't scoring goals and they avoid conceding as well.
It is too early to conclude on how far they are expected to go with the performance they have shown. It is still a long way to the end of the season, lets hope they keep up with their fantastic performance as we enjoy the ride through.
They will be playing against Crystal Palace in their next league game and it would be a tough one, let hope it turns out well for them.