Liverpool didn't give Leeds a chance like they did last season, the visitors bagged all three points to gain a space among the league toppers again.
The match was full of life as both teams went all out but it didn't end well for Leeds as they remain in the red zone on the league table. They did play a great game but weren't as lucky as they were in the 2020/21 season when they went all out against the big teams and got the results they wanted. They scored four goals against Liverpool last season and were expecting more of the action from them but things didn't go as we thought they would.
Mohammed Salah got the opening goal of the match, thanks to Alexander Arnold who gave a perfect assist for the Egyptian forward in the 20th minutes of the match.
Liverpool went into halftime with a goal advantage, they had so many chances but couldn't get the ball past the Leeds goalkeeper.
Leeds started the second half strong but Liverpool got another goal to extend their lead in the match. Fabinho was the goal scorer, the Brazilian didn't allow the chances he had to go to waste.
The home team's hope of fighting to the end almost ended when Strujik went hard on Elliott, the Liverpool young lad has to leave the field in a stretcher.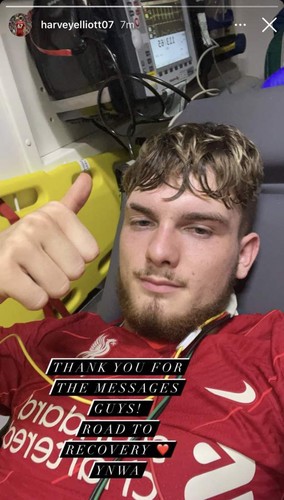 The red card crippled Leeds morale but they went on to push for more goals which didn't come and instead they conceded more from the hard pressing Liverpool attack.
Sadio Mane finally got a goal after lots of failed attempts in the face of the goal, it ended 0 - 3 in favor of Liverpool, and the team would be happy about the victory.
Congratulations to Salah on his 100th goal in English Premier League and quick recovery to Elliot as well.
Images from Instagram.