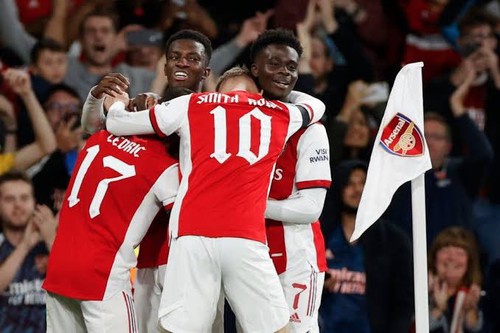 Arsenal seems to have found their rhythm back after Manchester United defeated them in the English Premier League.
The team have one all matches since then even though we weren't seeing many goals but it turned out differently tonight at the Emirates Stadium. The team scored three times to book themselves a spot in the fourth round of the EFL Cup.
The London side has been exceptional in the cup race since the beginning of the competition. They started by thrashing West Brom 6 - 0 in their first match in the previous month and today's performance gave them a perfect result against AFC Wimbledon.
Lacazette opened the scoreline from the spot-kick, it was all Arsenal needed to get their confidence in the match. They went on to get two more goals from Smith Rowe and Edward Nketiah. AFC Wimbledon would need to try again next season.
It ended 3 - 0 at the Emirates Stadium.

Manchester United unbelievably crashed out the EFL title against the same team they struggled against over the weekend, West Ham stood their ground to get the weekend revenge at the Old Trafford.
Jesse Lingard the weekend savior couldn't be of help for the team this time around as they couldn't get an equalizer for a goal they conceded very early in the match.
The team made a different line up from what we saw over the weekend and it didn't work for Manchester United.
Lazini got the only goal of the match and it would be a disappointment for the manager who gambled the team selection against a side in the top eleven couldn't defeat easily.
The team is short of lifting a treble within the English competition.