Isn't it great in Russia during the World Cup? Modern stadiums, hospitality, even the local national team are playing some of their best football in history. Seems like a fairy tale, doesn't it? Let's have a reality check:
Any World Cup undresses the country and shows its true colors. Naked as it is. However, in Russia the tournament showed extraordinary sexual deviation. They are basically stone age people compared to Europeans. The level of sexual interest breaks records. Local news feeds don't stop broadcasting sexual images and videos. If the old folk Freud rose from his grave and had a psychoanalysis performed in Russia these days, he would be astonished to see the weird approach to sexual relations demonstrated by the locals. You can't say the words penis or vagina aloud (the second one in particular), or they'll call you a pervert. However, if you do get wasted, shit-faced and break the lights in the subway while celebrating the national team victory, nobody is going to say a word to you. Russia are a third-world country when it comes to treating the sexual side of living.
Here is the top five outstanding examples of sexual addiction:

Burger King beat all other contenders with their outrageous post on social networks. It is just as bad as the claim of a female Duma member, suggesting Russian women stay away from foreigners during the World Cup. In a few words, the American fast food chain calls on Russian women to get pregnant from football stars and receive the prize of 3 million Russian roubles (about USD 50,000), as well as a life-time stock of whoppers.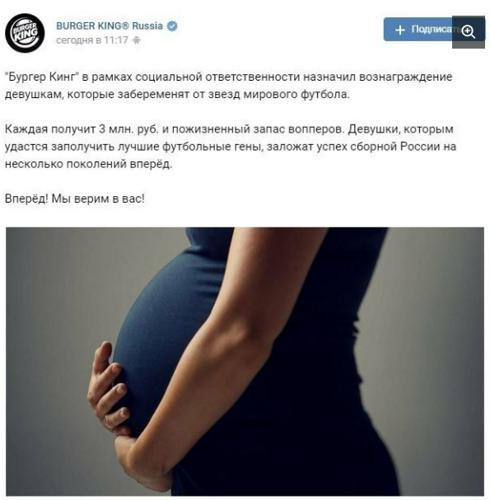 2. Burger King went on to apologize and delete their post, but the Russian beer brand Baltika are not as sensible and keep hyping on their sexist media campaign, involving a sexy lady who can't stop refreshing men. Check it out.

3. Brazilian fans surrounded an unsuspecting Russian lady and started chanting 'pink vagina'. Poor girl clearly had no idea what was going on. They also had fun of a flight attendant on a local flight.

4. Sex app Tinder has become 11 times more demanded in Russia during the World Cup. It seems like the country has turned into a shameless Sodom.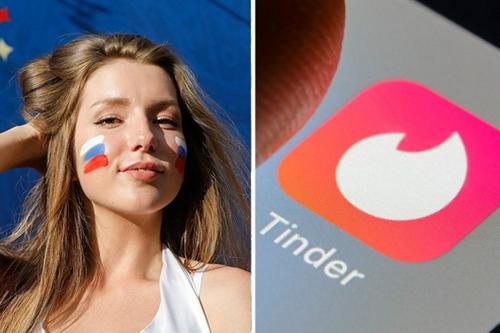 5. A Deutsche Welle journalist was kissed and hugged during a live broadcast. The video has gone viral around the world.

And, finally, a kiss masterclass from Russian and Mexican fans: