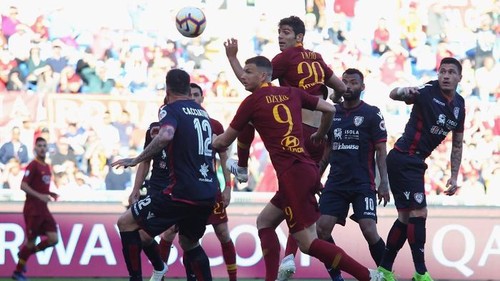 Hello everyone, wherever you are on this occasion we will review one of the follow-ups from the Italian Serie A which brings the match between AS Roma versus Cagliari in the Olimpico Roma stadium. Even though this season is almost over, there are still many exciting matches to maintain the final position.
this match has been exciting since the minute. Besides this match took place in a rather fast-paced tempo. a. Roma managed to score a goal on 5 minutes through Federico Fazio, the goal with the header just crossed the goal line before being touched by the Cagliari keeper
After the goal AS Roma again scored their second goal a few minutes later precisely at minute 8 through Javier Pastore The goal was very good because a horizontal kick from outside the penalty box was not successfully held by the keeper
As Roma became more violent after the goal they finally mastered the match, they managed to score the third goal in the 86th minute through Aleksandar Kolarov. As Roma was getting the upper hand but they could not score again. currently, they are in 4th place in the Italian Series.