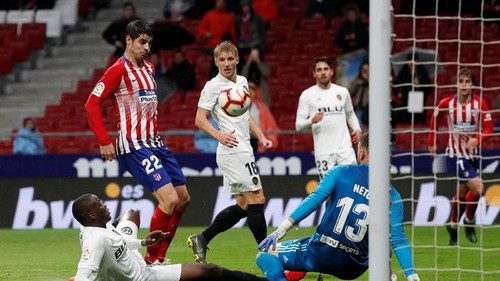 Good afternoon to my colleagues wherever you are, on this occasion we will review one of the follow-up matches from the Spanish La Liga that brings together the club Atletico Madrid versus Valencia this match is the last seconds of the League this season

Since the early minutes this match lasted quickly since the early minutes even Atletico Madrid managed to score a goal in the 9th minute through Alvaro Morata, after the goal Atletico increasingly aggressively launched the attack But things changed on 36 minutes when Kevin Gameiro managed to equalize to 1-1. until the first round after the score did not change.

the second half began with a very fast game and Atletico Madrid managed to score first through Antonio Griezmann in the 49th minute, after the goal the match went balanced with only the number of balls in the middle of the field. in the 77th minute, a clash occurred in Atletico Madrid's forbidden box where they struck a handball offense. the referee awarded a Daniel Parejo penalty as the executor of the ball and managed to score a goal.

after the penalty scored 2-2. Atlético Madrid managed to add a goal on 81 minutes through Correa's hard kick, the goal was very good because it was kicked from outside the penalty box. The 3-2 score lasted until the match was over for Atletico Madrid's victory.