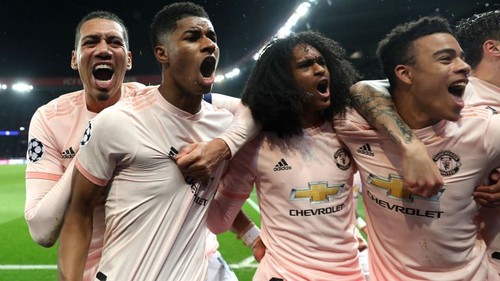 As I stated in the previous article that I will be a lot of surprises in the Champions League this time after yesterday's shock occurred in the match Real Madrid versus Ajax Amsterdam the chance this time PSG was defeated by Manchester United on the match on penalties

this opportunity we will review the missing from the PSG match because in my opinion this match is very interesting because in the first leg managed to win 2-0 over Manchester United, but in this home match PSG lost at home with a score of 1-3 this was a hard slap for they. After the dismissal of Jose Mourinho Manchester United improved their performance.

the game has only been running for 2 minutes Manchester United managed to excel through their striker Romelu Lukaku with this quick goal PSG reacted precisely at 12 minutes to Juan Velasco returned the position, but Manchester United did not stay silent on 30 minutes they managed to score through Romelu Lukaku score 1- 2 last until the first half is over.

entering the second half the match was getting heated up even until this match would end the score was still the same ie 1-2 but Manchester United got a miracle on 94 minutes they managed to score a goal through Marcus rashford. although aggreagat equaled 3-3 but Manchester United scored away goals.