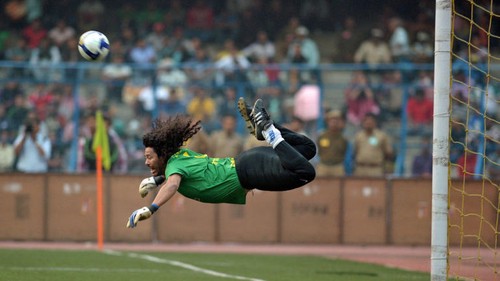 Hello, friends wherever you are on this occasion I will discuss one of the stories from the living legend of the Colombian national team is Rene Higuita, the very good goalkeeper is one of the legends owned by the Colombian national team because of the scintillating action he did while still defending the national team Colombia.
The Colombian-born El loco goalkeeper born in Colombia was very controversial, but this action on the pitch made the fans like him more and more especially in the 1995 friendly match against England he held the ball like a scorpion, he lifted his legs up like a scorpion while holding the ball. The kick is known as the Scorpion Kick. the kick became a conversation in various media and the country at that time even now many people still know him.
besides being good at keeping the goal he was also very good at poking the ball, in fact he often left his goal to check on the opponent, not only until he also usually took the free kick given to his team, some goals were created from kicked free kicks it became a plus value owned by Rene Higueta.
In his football career, Rene Higueta has scored at least 33 goals throughout his career, even though he has dribbling intelligence but he has had bad luck when he missed the match against Cameroon in the last 16 of the 1990 world cup. In 1993 the public was shocked by the news. the arrest of Rene Higueta who was involved in the kidnapping case was joined by the Colombian drug mafia Pablo Escobar. for the incident his career began to be threatened he was jailed for approximately 7 months and failed to participate in the 1994 world cup which was sent directly in the United States
Then he returned to playing football until finally he was again hit by another case of positive use of Cocaine in 2004. after a dismal period in his career, he ventured into the world of actors and managed to become an actor in some Colombian shows. he did plastic surgery to support his achievements. but he returned to being in the world of football but only became a goalkeeping coach on the Colombian national team.