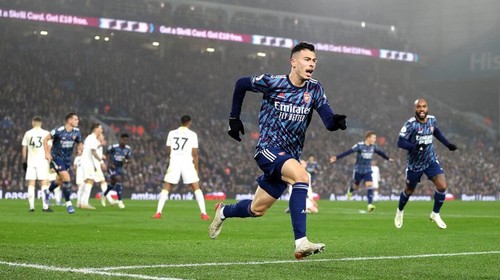 It was the only game in the Premier League today as other games were postponed due to the current situation of the Covid-19, Arsenal and Leeds were tge only team that played because they have not been really affected by the so called Virus. Arsenal Outclassed Leeds United as they travel to their Home soil Elland Road to beat them with 4-1 in the round 18 of the English Premier league 2021-2022 season.

Arsenal meeting against Leeds United never seems to be a hard match, last season Arsenal beat them in their last encounter 4-2 with a comeback and meeting with them has always been easy. Arsenal started the season in a bad way and recently they are one of the team with the finest performance. After the Victory they moved to 4th position behind Chelsea football team.
Martinelli scored the opening in the 16 minutes and added another goal in the 28 minutes while Bukayo Saka added another goal in the 42 minutes making it 3-0 in the first half. Raphinha scored in the 75 minutes from a penalty kick awarded for Leeds United and Emile Smith Rowe added another goal in the 84 minutes to give Arsenal more gap of winning.