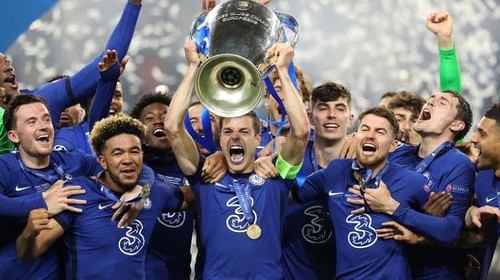 A well deserved Victory for Chelsea as they cruise pass Manchester City to claim their second UEFA Champion, Chelsea were the best team as they beat Manchester City 1-0 to lift the throphy. Chelsea journey in the Champions league is a good one since their group stage of the finals, they begin the hard challenge with Atletico Madrid in the round of 16 and they are able to bring the Spanish team down and headed to quater finals to play against Fc Porto who knocked our Juventus, Chelsea we strong enough to also handled the Portuguese Champion and head over to semi finals to play the Spanish Giant Real Madrid in the Semifinals.

The Semi Final was the most competitive game of Chelsea in their Uefa Champion league journey, Chelsea were looked down on and nobody ever believed they will qualify because Real Madrid beat Liverpool to get to the Semifinals and it was now a thought on every other supporters that Chelsea will not make it. But fortunately Chelsea beat Real Madrid on 3-1 aggregate to make a place in the final against Manchester City. Upon matching Chelsea with City I see no fear in the Blues as they have previously beat the City twice, in the league and FA Cup.
Chelsea have what it takes and they were crowned the Champions of Europe, its a great moment for all the players especially Thomas Tuchel and Thiago Silva who last last season Champions league to Bayern Munich. The season end well for Chelsea and they for get the defeat in the FA Cup finals as they won the most recognised throphy in Europe. Chelsea will be preparing ahead the next season for World club Cup and also Uefa super cup.