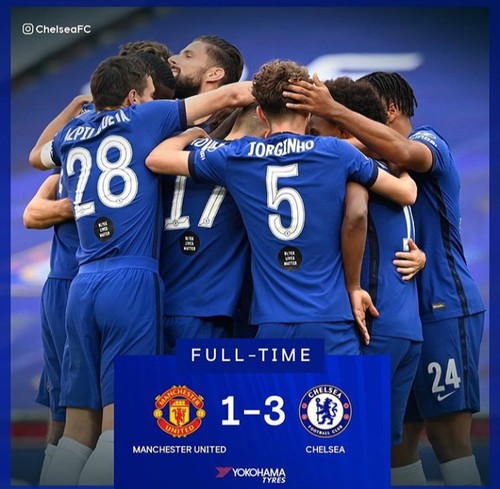 Chelsea are the better team against Manchester United in the semifinals of the FA cup at the Wembley Stadium. Chelsea hit Manchester United 3-1. As a chelsea fan I am so happy that it was a great win for us and a perfect time. Though Chelsea has suffered defeat from Manchester United this season but I am so glad about this winning and I am so sure it's so painful to Manchester United has they lost to Chelsea.
This is the 4th time Chelsea will be playing against Manchester United, Manchester United has defeated Chelsea thrice this season, but this time the table turn around as Chelsea are full of determination in this match. All thanks to Olivier Giroud, Mason Mount and Harry Maguire own goal that led Chelsea to the victory.
Manchester United are in good form but unfortunately they could not hold it as Chelsea performance was outstanding in this match, Manchester United last loss was in January but it shows that Chelsea are more prepared for retaliation for the 3 defeats.
However, the two London team Arsenal and Chelsea will be meeting in the FA cup finals.