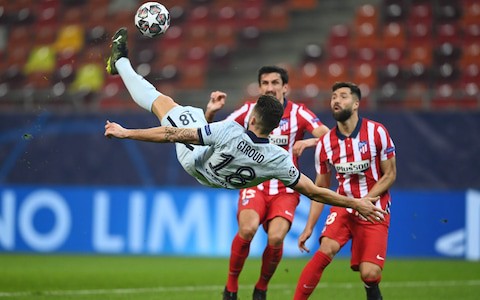 It was a great night at the National Stadium, Romania as Chelsea and Atletico Madrid battle it all in the round 16 of the Uefa Champions league competition. After a lot of defensive game and a tough time given to Chelsea by Atletico, Chelsea hit them with a lone goal scored by Olivier Giroud in the second half. there was a bit issue on the gaosl whether it's an offside or not but fortunate for Chelsea Giroud was on side and the goal keeps Chelsea ahead of the game.
It was a well determined game for Thomas Tuchel side as they dominated the match for 90 minutes, if not that Atletico were a well defensive football team they should be conceding more than one goal. Atletico is a team that not all the team prays to play against them because you will never feels the fun of football lol, because they will never allow you play because if their defensive playing pattern. though I love their pattern of play because hardly you will see any team beat Atletico Madrid mercilessly.
I enjoyed the winning as a Chelsea fans and also because Chelsea is playing away game, it is an opportunity for Chelsea to qualify for the next rou nd if they can play with the same spirit used yesterday. Chelsea really impressed me as their improvement really changed since the new coach is around, the most enjoying part is that he is doing this wonders with the players Frank Lampard has condemned.