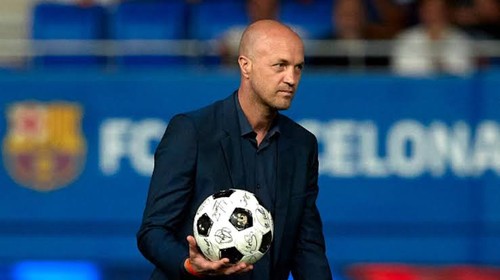 Jordi Cruyff could take over Ronald Koeman who took over as coach last season at Barcelona and since taking over the team has not been the same and their spirit for hunting for throphy are down, on his arrival at the team Luis Suarez leave the team for Atlético Madrid and he won the Laliga with them as Barcelona went throphyless last season. He was also kicked out of the Champions league after a heavy lost to Bayer Munich with 8-2 defeat in a single leg.

Barcelona are really helpless as their Legen Lionel Messi left the team for Parish Saint Germain as they are unable to pay his wages due to financial difficulties with the team, several players also left the team such as Antoine Griezmann to Atlético Madrid with an option for the rival Madrid to sign him atbthe end of the season.
However, Koeman has not performed as expected and he is expected to leave at tge end of the season when his contract expires with the club, Barcelona has had a contact with Jordi Cruyff to take over the Dutchman but there has been an hesitation from him in taking the Job, though he may likely accept the offer but right now he is not giving a positive response concerning the contract.