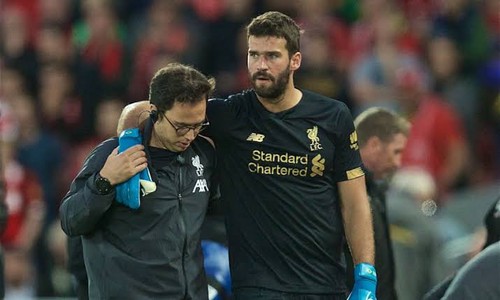 Liverpool goalkeeper Allison Becker is now back to training and he is expected to return back to action by the end of october. Allison who was injured in the training before the encounter against Aston Villa which stopped him from showing in the match, had it been he is around Liverpool will never slumped to that heavy loss by Aston villa. Its a big slap in the face for a reigning champion to be hammered 2-7 from a low level team of the premier league.
Adrian has taken over since his absence but it was not satisfactory because he has not been keeping the net safe with his heavy goal conceding. It's a great news for Liverpool as Allison tecovery was so fast and he should be back soon. He was in good condition and all he ever needed is fitness to be back.
One of Liverpool best player in defense has also picked up a knee injury in the Merseyside derby in an encounter with Everton goalkeeper Jordan Pickford which saw him out of the 2-2 draw and he couldn't continue the match, however he will be undergoing a surgery with the club medical team for him to get fitness and get a swift recovery. His return date is not yet disclosed I just think it might takes some months before he returns back to action.