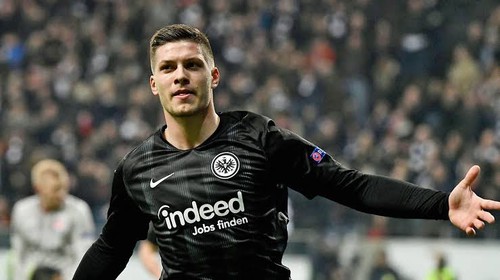 Luka Jovic who has been having a difficult time since getting to Real Madrid in 2018 has break the jinx as he scored his third goal since transferring on loan for Eintracht Frankfurt as the won 5-1 aginst Armenia in the Bundesliga match. Real Madrid and Eintracht Frankfurt come to an agreement to let him make a return to the Bundesliga side on a loan deal but with no option to buy. Main reason for Real Madrid signing Luka Jovic was because of his form back then at his former club and he was seen as a perfect replacement for Karim benzema, but its unfortunate he is not even performing up to Benzema.

Several cases has been seen with player that has been performing well from their previous club but after transferring to another team they stop performing, which is happening with Eden Hazard that has been nursing injury since getting to the spanish team.
Could it be Real Madrid is too big for Luka Jovic or Zinedine Zidane has not been using him well? However since his return back to the Bundesliga he has recorded 3 goals in three substitute in Bundesliga games while has struggled to scored lesser goals in 21 appearance for Real Madrid. With this Change of performance his value will increase and Real Madrid may want to change the agreement and turn it to a permanent transfer because it shows he feels more comfortable in Germany than Spain.