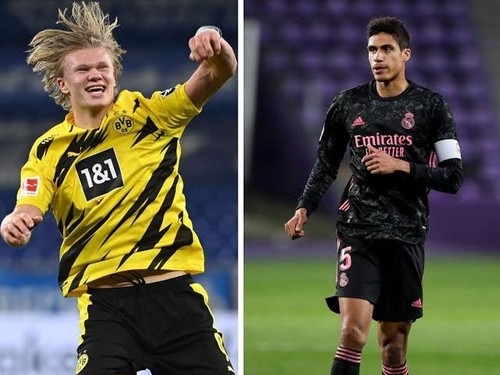 Real Madrid defender Raphael Varane future with the club is not certain and he will be sold this summer unless the he signs a contract extension with "Los Blancos" before the transfer window opens, if he refused to sign he will be moving away from the Club. several club are on the list to sign him and Manchester United are the main fan of Varane, they have been hoping to sign him before he moved to Real Madrid. but Nevertheless they never relent on signing him this summer in order to strengthen their team.
Real Madrid have so far given up the hunt for Paris Saint-Germain striker Kylian Mbappe who has finally to stay with PSG. Mbappe deal was set to expire in the summer of 2022 but he has been convinced by the team to extend his contract with the club. Real Madrid hope in signing him is shattered and they will be looking for a new player to sign.
With Mbappe decision, Real Madrid has now moved to Erling Braut Haaland who has been sound wonders for the German team Borussia Dortmund. they are looking for a player to take over as Karim Benzema is getting old, Jovic that was signed to take his place didn't perform to expectations and he has been loaned out to Eintracht Frankfurt which is why they are going all out for Haaland.