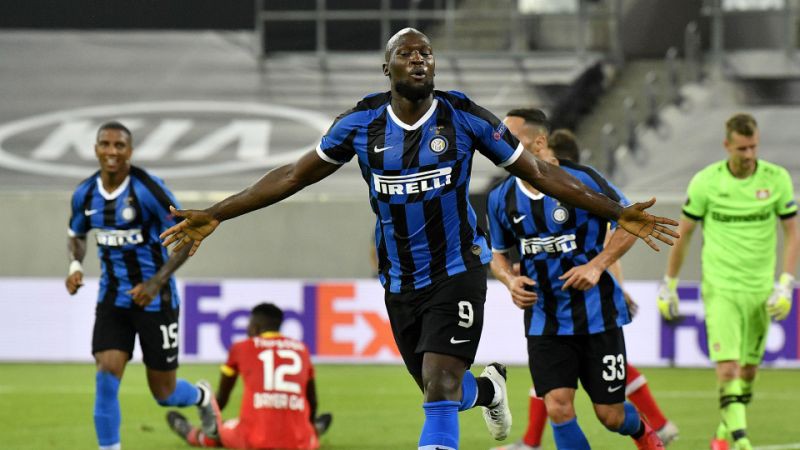 Although, the inform Cristian Eriksen was left out of Antonio Conte's starting line-up when the silver winners from Italy invited Leverkusen for a showdown in the quarterfinals of Europa League knockout phase, and from a strong defensive point of view, Inter controlled the game from the start.
After 14 minutes, Nicolo Barella completed an excellent Inter attack and put the Italians ahead 1-0. Where Romelu Lukaku was waiting and volleyed it in off the bar ... what a finish that was, well worth watching match of the day for me though.
After 20 minutes, the roaring Belgian repeated the feat. Again a deep ball into the box where the Belgian had a defender hanging on his back. Despite this, he got turned around, and put the ball past Hradecky in the Leverkusen goal for a deserved 2-0 lead.
Shortly afterwards, Inter once again put Lukaku on stage when he was sent through alone. Only a super save by Lukas Hradecky prevented the Belgian from getting is brace and making it 3-0. The rescue proved to be more than important, as Leverkusen just two minutes later created a lifeline in the match.
Kevin Volland found the talented young lad Kai Havertz in the field and he did not fail, bringing the tension back into the match with the score to 2-1. That tension, however, was close to seeping out of the match again a minute later when the referee awarded a penalty to Inter after one of Leverkusen player improperly handed the ball in the box.
However, the referee had to take VAR in play, and override the penalty kick decision again, as the arm was not out of the body. Deserved 2-1 lead for Inter at the break with a big-playing Lukaku in front.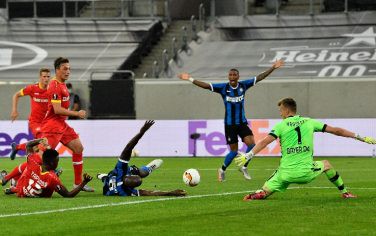 After a small hour of play, it was then Eriksen time. He was sent on the field, and marked himself strongly with several good actions. The match wavered back and forth with Leverkusen as the chasing team. Both teams created several good opportunities, but goals were delayed.
Leverkusen tried and tried but Conte's well - tuned team was difficult to break down and the Germans lacked the final sharpness
In the 89th minute Christian Eriksen slipped free in the field, and was illegally stopped by a Leverkusen defender. Penalties to Inter, but again VAR changed on this. While Lukaku was ready to kick, the match referee ran out to the VAR screen.
Here he could see that before the ball went to Eriksen, it hit the hand of a lying Inter player in the field, and therefore the penalty kick was canceled, as the situation was crucial for the game.
After seven minutes of overtime, Conte was then able to raise his arms on the sideline as his team deservedly had secured the semi-final, with a big-playing Lukaku in front and another VAR show around penalty kicks.