Fans at the Emirates have vented their anger on Arsenal midfielder Granit Xhaka. The Switzerland international was once again caught up in a controversial moment against Liverpool.
The tackle eventually led to the sending off of Granit Xhaka which did not go well with the Arsenal Supporters.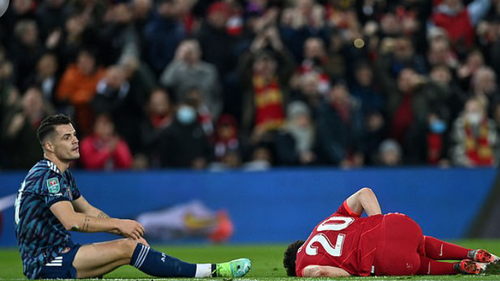 Highlights on the incident
As at the point he put up the tackle on Jota, Granit Xhaka was the last man standing for Arsenal. Leaving the referee with no choice but to give him a sending off.
Another depressing factor coming with the Xhaka red card was the timing. The tackle was made during the first half hour of the game. Leaving Arsenal to fight four an extra hour with a man down.
On getting into the dressing room, Xhaka had already received several lash outs by Arsenal fans in their social media handle.
Statements from Arsenal fans
One of the fans on Twitter labelled Granit Xhaka a disgrace. Insisting he was ashamed to ever admit the Switz was once the captain of his side.
On a different tweet, another tagged Xhaka a liability. Urging Arteta to do away with the midfielder.
Summary
No doubt, Arsenal fans were disappointed by the tackle of Xhaka. However, they can count themselves lucky for at least getting a draw against Jurgen Klopp's men.