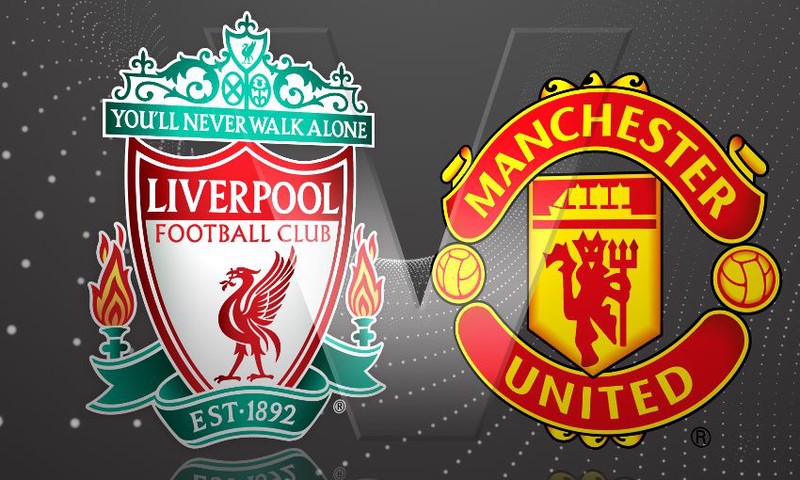 It is is a Super Sunday in the EPL and we have loads of amazing games going down today: Aston Villa vs Everton, Sheffield United vs Tottenham Hotspur, Liverpool vs Manchester United, and Manchester City vs Crystal Palace. It is definitely a Matchday filled with matches you can not afford to miss as an EPL fan
Howbeit, I wjll like to settle with the most important fixture of the day, "Liverpool vs Manchester United", but I do not know which of these 3 tags will suit well for the battle between these 2 sides: "The Battle Of The Reds", "Top Of The Table Clash", or "Clash Of The Most Prestigious Teams In England". Really, both teams suit very well into all 3 tags, however, I think it will be cool to go with the 2nd tag which suits most with the current situation of things.
LIVERPOOL VS MANCHESTER UNITED: Top Of The Table Clash
It is so amazing to see England's most decorated teams take on each other as Jurgen Kloop's Liverpool welcome Ole Gunnar Solkjear's Manchester United to their(Liverpool) enchanted stadium, Anfield.
Looking back to 6 of their recent meetings prior to today's encounter, today's game would have been hyped majorly because of the rivalry between both sides. How things have changed in less than a year, with United's purchase of Bruno Fernandez, we now have more as whoever comes out victorious tops the EPL table even if they wouod be on equal points if the Merseyside red come out victorious.
Yes, it's definitely a close call choosing between both sides, but with no disrespect to the red side of Manchester, I think a draw or a win for Liverpool are the most likely outcomes of this game, and here are my stats in support of them:
As usual, I will with why I feel a draw looks more likely,
1) Manchester United's Performance Against Top Teams This Season:
No doubt about it, the red devils, alongside their blue counterpart from Manchester, have been the most impressive teams in the EPL thus far with an unbeaten run of 11 games attached to their(United) impressive performance, however, their games of 2 loses against Tottenham and Arsenal, and 3 draws against Chelsea, Manchester City, and Leicester City shows how silent they could be against top rival teams. I think this silent mode might resurface once again against Liverpool.
I am not neglecting the fact that they have defeated impressive sides like Everton, Aston Villa, and Southampton this season, but I beleive we all know very little is most times attached to games that involve these latter teams compared to the formers.
2) Head To Head:
This stat points towards a draw or win for Liverpool.
Looking at the previous 8 meetings between these sides, you will definitely see how difficult it is to separate both sides with 5 of these meetings been draws, Liverpool getting victory 2 times, and Manchester United claiming 1 victory. A really tight one you want to say.
And this leads to the last and most important stat.
3) Liverpool's Anfield Jinx:
Anfield is definitely one place every EPL team always want to avoid considering Liverpool's amazing unbeaten run(64) there, however no EPL team has a choice(well, except if they prefer the game to be a walkover with them losing all 3 points with 3 goals against them) as you just have to visit that dreadful place, at least, once a season, and now, it is the turn of the red devils.
The last 2 visits of the red devils to this ground had all ended in a loss, and I bet Liverpool will want to do everything to make it 3 knowing fully well that a 3rd consecutive victory here will see them move back to the top of the table, a huge psychological and morale boost for the reds you want to say. Defeating Liverpool here will definitely be a huge task for the red devils, knowing fully well that Manchester City, even at their best form, still have not been able to break this Jinz.
However, as we all know that this encounter has loads of strings attached to it than the regular rivalry between both teams, not forgetting how improved this Manchester United side have become since the purchase of their talismanic midfielder(Bruno Fernandez), and how less invincible Liverpool have also become , It will not be a huge suorise if Liverpool's Anfield record gets shattered today.
We should most definitely get an entertaining game if United come out with an attacking mindset, but I bet Solkjear might want to be a bit conservative, waiting for counter attacks, knowing fuuky well that a draw is more than sufficient to see them sit at the top of the EPL table at the end of this game(not putting Manchester City's outstanding game into consideration).
Feel free to drop your opinions and comments, they will be greatly appreciated.
Much Love from your Football Analyst and Writer, IbkDaGreat.