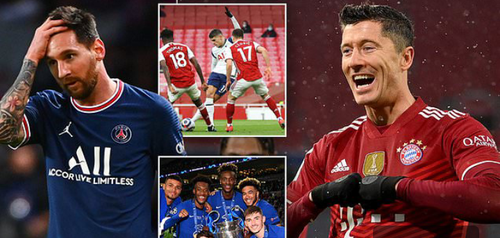 Bayer Munich forward Robert Lewandolski he been awarded by FIFA for the second time in a roll. The forward got ahead of the likes of Lionel Messi and Mo Salah to clinch FIFA best men player award.
As was earlier noted, the clinching of this award makes it the second time in a roll for Robert Lewandolski. He emerged victorious in 2020 after an incredible season in the Bundesliga.
Robert Lewandolski speaks after the award
After the award, the Polish striker was full of ecstasy. He insisted that he felt happy to receive such an honor. Insisting he would continue to do his best for the team.
Next, Lewandolski noted the role played by his teammates. Pointing out that his teammates have been very supportive
Lewandolski speaks on breaking Gerd Muller's record
Following his "thank you" speech, Lewandolski spoke on his achievements in 2021. Highlighting the fact that he never believed he would at one point in his career break Gerd Muller's record.
The record set by Gerd Muller was that of most goals in a Bundesliga season, which was (40) at the time. However, after netting 41 goals in 29 appearances, Lewandolski has deservedly been granted the Best FIFA mens player awards.
Summary
Considering himself and many believed he was robbed of the Balon d'Or award by Lionel Messi, the FIFA Men's best player award comes as a much deserved compensation.