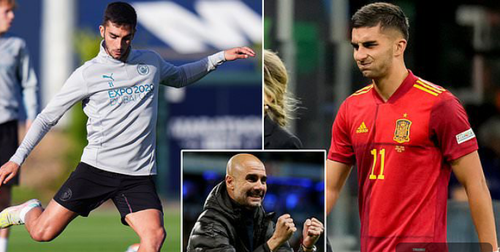 Spain and Manchester City forward Ferran Torres is set to up his training after receiving a foot injury some months ago.
The forward has now begun individual training in other to step up his rehabilitation process.
According to reports, the doctors have told him that if he follows his training religiously, he could make a comeback at the beginning of 2022.
Highlights on Ferran Torres's injury
The injury to Ferran Torres came during his international duty with Spain. After the injury, Manchester City boss Pep Guardiola predicted that Ferran could be out for three months.
Without a doubt, it is indeed good news that the Spanish forward would be making a return to light training in less than no time.
A detailed review on Ferran's full come back
Right, Ferran Torres would be resuming light training soon, however, that does not mean he would be back to the pitch any time soon.
The light training would be to put him in shape for a period before he begins training with the full squad. Hence, any hopes to see Ferran Torres back in action this year, should be taken by a pinch of salt.
Summary
It was indeed sad to see Ferran get injured after enjoying the form of his life in both Manchester City and Spanish appearances.
That being said, all can only hope that he gradually resumes his fine form once he is back from injury.