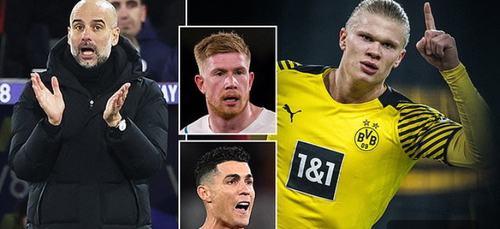 According to reports Manchester City have become first in line to secure the services of Norwegian forward Erling Haaland. The Citizens would not mind making Haaland the highest paid player in England.
EPL OUTSTANDING GAME PREVIEW (Arsenal vs Liverpool): https://ibkdagreat.com/epl-outstanding-game-preview-arsenal-vs-liverpool/
Manchester City have highlighted that personal terms with Haaland have been agreed upon. Hence, we could see the Norwegian become the highest paid in the whole of England. The reports suggest a sum around 500,000 euros a week.
Why Haaland's deal is interesting:
Another interesting thing about the deal for Erling Haaland is his release clause. Erling Haaland has a release clause of around 70 million euros.
No doubt, a minimal payment in terms of what his overall worth would have been in the transfer market. On his part, Mino Raiola would be keen on facilitating the move as he stands to gain a lot from the deal.
Haaland to Real Madrid – Ruled off:
The statement from City also suggest that the probability of and Erling Haaland and Kylian Mbappe combo at Los Blancos may never come to reality.
Before now, pundits have suggested that Real Madrid refuse bringing in both players. Insisting they may be making themselves vulnerable to loads of egos in their team. And as PSG have proven, egos affect the overall performance of any team.
Summary:
The addition of Erling Haaland would be a great one for Manchester City, as he would add a lot of quality in terms of the teams goal scoring display.
The Norwegian is strong, offers a lot in the air, and has a great eye for goal. An all round quality player indeed.