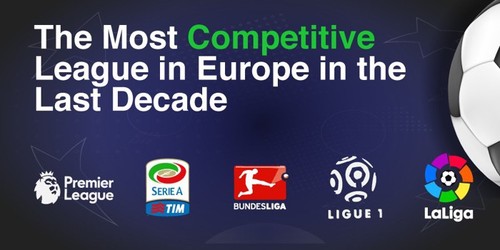 It was business as usual in Europe's big 5 Leagues over the weekend with all 5 Leagues fully occupied with league games. Let us take a look at how the table for each league now look, as we have got some new changes cimoered to that of last week.
1) ENGLISH PREMIER LEAGUE: Manchester City.
Of all the 5 Leagues, this is the only league, alongside French Ligue 1, where we have a change with regards to who leads the title race as Manchester United conceded top spot to City rivals, Manchester City.
The red devils' shocking loss to Sheffield United during the week and another draw against Arsenal over the weekend ensured they, Manchester United, slipped to 2nd position and 3 points behind the Citizens who are now on 44 points after they secured huge wins over West Bromwish Albion and Sheffield United respectively.
Let also not forget they, Manchester City still have a game in hand, and a win in this game would see them move 6 points clear at the top of the table. If this happens, then it is most likely that Pep's men will inadvertently be running away with the English Premier League Trophy this season.
Manchester City occupy 1st position with 44 points, followed by city rival, Manchester United with 41 points, Liverpool come next with 40 points, and Leicester City complete the top 4 with 39 points.
2) SPANISH LALIGA SATANDER: Athletico Madrid.
The Rojiblancos moved 10 points clear off the LaLiga table after they saw off Cadiz in an entertaining 4-2 fixture which both Luis Suarez and Alvaro Negredo bagged a brace each, the former, for the Rojiblancos, and the latter, for Cadiz. Well, Real Madrid's not too surprising loss to Levante was very instrumental in Athletico's increased point gap.
If Athletico Madrid win their outstanding game, then both Real Madrid and Barcelona'title chase might be very much over. Well, I can't wait to see Diego Simeone's side lift the LaLiga title once more after 6 years.
Athletico Madrid are in 1st position with 50 points, Barcelona and Real Madrid share equal points of 40 each, but the former take 2nd position thanks to a better goal difference, whilst Sevilla complete the top 4 with 39 points.
3) ITALIAN SERIE A: AC Milan.
Although AC Milan still sits at the top of the Italian Serie A table, both they, AC Milan, and City rivals, Inter, got important wins over the weekend, with the former getting an away 2-1 victory over Bologna, and the latter, an emphatic 4 nil victory over newly promoted side, Benvento, ensuring the 2 points gap between them, AC Milan and Inter, at the top the table remain intact.
Seems both teams are determined to end the old ladies over due dominance of the Serie A trophy, aren't they?
AC Milan lead the pack with 44 points, followed closely by city rival, Inter, with 42 points, Roma come next with 40 points, and Juventus complete the first 4 with 39 points.
4) GERMAN BUNDESLIGA: Bayern Munich.
Guess I would be right if I said the Bavarians will end up with this season's Bundesliga trophy in their cabinet as usual after they got an emphatic 4-1 win over Hoffenheim, ensuring the 7 points gap between them and 2nd placed RasenBallsport Leipzig remain intact after the latter secured a hard won 1 nill victory over Bayer Leverkusen.
On the other hand, Bayer Leverkusen's woes continue as they have now slipped to 4th position after failing to get a win since their first loss of the season, which inadvertently, was against Bayern Munich in December last year. A pretty bad situation for Die Werkself you want to say.
Bayern Munich sit in 1st position with 45 points, next comes RasenBallsport Leipzig with 38 points, followed by Wolfsburg with 35 points, and lastly Eintracht Frankfurt with 33 points.
5) FRENCH LIGUE 1: Lille
Yes, the 2nd league with a change in its table leader.
Paris Saint-Germain:s shocking 3-2 away loss to 18th placed Lorient, ensured they slipped to 3rd position after the remaining 2 closest League contenders, Lille and Olympique Lyonnais, secured important victories, Lyon defeated Bordeaux by 2 goals to 1 and
Lille defeated Dijon by 1 goal to nothing. I am really loving this league you know.
Lille now sit in 1st position with 48 points, Lyon come 2nd with 46 points, Paris Saint-Germain in 3rd with 45 points, whilst Monaco complete the top 4 with 42 points.
From the look of things, seems things are beginning to shapen out in the English Premier League as well, leaving us with the Italian Serie A and the French Ligue 1 who are yet to give us a clear League leader.
Feel free to drop your opinions and comments, they will be greatly appreciated.
Much love from your Football Analyst and Writer, IbkDaGreat.