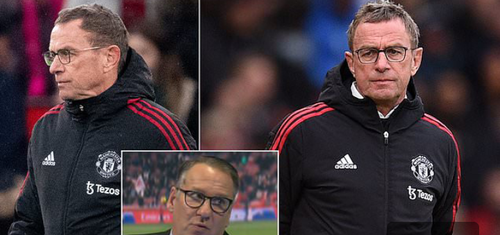 In a recent statement, English pundit Paul Merson has shared his his thoughts on the relationship, between Ralf Ragnick and Manchester United. According to him, the German has lost his way in his quest to manage the club.
So far, the Red Devils have not enjoyed the best of times under the supervision of Ralf Ragnick. With every passing week, they continue to fall far below champions league places. Featuring unimpressive performances.
More statement from Merson
After stating the Red Devils should have their eyes on getting rid of the German tactician, he went on the analyse the probability of the Ragnick being in charge next season.
For Merson, Ragnick has zero chances of being at the helm of affairs next season. Hence, it is matter of when not if he would be leaving Manchester United.
Merson rounds up his ideas
In conclusion, Merson called out those who have insisted that under Ragnick, players were excited at Old Trafford highlighting that is nothing but a lie.
From his opinion, he had heard lots of in house dissatisfaction over Ragnick's managerial prowess at the club. Which suggests a divided household.
Summary
Nonetheless, amid all statements from pundits and fans, it is left to be seen if and when United take action concerning the German tactician.