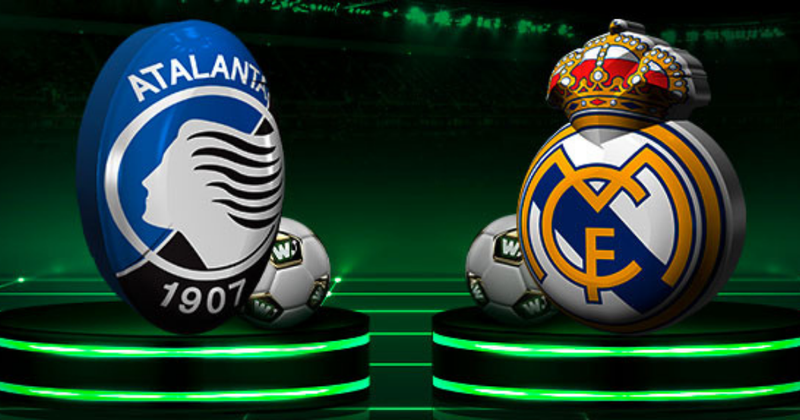 The first leg of the UEFA Champions League Round Of 16 comes to an end today with the final 2 games set to be played later today.
Both Atalanta and Borussia Mochengladbach will be the hosts for today's games with the former taking on Real Madrid, whilst the latter will battle it out against Manchester City.
However, for today's game analysis, I will be focusing on the game between Gian Gasperini's Atalanta and Zinedine Zidane's Real Madrid as you and I look to see if "Experience" will once again prevail over "Impressive Style of Play"
With the above well, said, shall we proceed to the analysis then?
ATALANTA:
1) Although Zinedine Zidane's men came out top of their group, you will agree with me that their performance was below par compared to that of Gian Gasperini's Atalanta.
The above is further supported with a stat depicting the Goddess to have claimed 3 wins 2 draws and 1 points in their group game ties compared to the Whites' 3 wins, 1 draw, and 2 losses.
I believe this should give the men from Italy some motivation going into this game, don't you agree with me?
2) Another stat that would likely favor Atalanta getting something out of this game is the fact that they've recorded only 1 loss in their last 8 matches in all competitions compared to Real's 3 in as many matches.
This stat would provide an additional motivation, won't it?
With the above stats provided in favor of Gian Gasperini's men, let's now take a look at Zinedine Zidane's men
REAL MADRID:
1) Although the Whites have not been excellent this season in all competitions, their ability to not only qualify from their UCL group after a poor beginning, but also claiming top spot can be traced to nothing other than their "Experience" in this elite competition.
We have also seen the 13 times UCL Champions claim the UCL trophy in seasons where they have not been extraordinary thanks to this same "Experience".
Don't you think this "Experience" could once again prevail today?
2) Another stat is the Whites' record of 4 wins in 5 games compared to the Goddess' 3 wins in as many games.
I believe this stat could also provide some boost for Zizou's men, don't you?
CONCLUSION:
From the stats giving above, it seems both teams are evenly matched. It's now left to both teams to decide which will be gaining an advantage at the end of this game.
Yes, many of you will seem to observe that I didn't consider the fact that Atalanta are the host here, and will definitely have some home advantage going into this game.
The reason for this is because Atalanta have been poor playing at home in the UCL this season, claiming just 2 points at home, and Real Madrid have not also been "spectacular" playing from home as they won 1, drawn 1, and lost 1.
In all, I believe this game should be an entertaining one with both teams been known for their attacking style of play.
With both teams evenly matched, which of them do you think will gain the advantage going into the return fixture?
Your take on the game between Borussia Mochengladbach and Manchester City will also be appreciated.
Much love from your Football Analyst and Writer, IbkDaGreat.