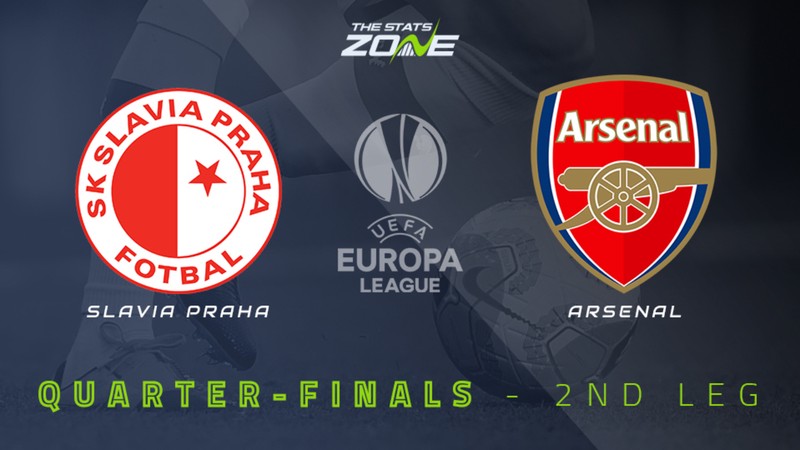 With the UEFA Champions League Semi final contenders settled, our focus will now be shifted to the Europa League where we've still got 8 teams fighting for it's Semi final slots.
Manchester United will take on Granada, AS Roma will square off against Ajax, Slavia Prague will host Arsenal, and Villarreal will welcome Dynamo Zagreb
However, as we all know we can only take one fixture for our analysis, then it would be better if we go for the only fixture that hasn't gotten a clear winner, or what do you think?
With the above settled, let's take a look at stats/facts favoring either sides making it to the Semi Finals, shall we?
SLAVIA PRAGUE:
1) The first fact favoring Cervenobili is them being the host for today's fixture.
This means they've got the comfort of their home on their side which should give them some huge boost going into this game.
A fair stat for Jaroslav Tvrdík and his men, isn't it?
2) A stronger stat favoring Cervenobili is the important "away goal" they got in England.
A goalless draw will definitely see them through to the next round.
The question is "can they stop Mikel Arteta's men from getting a goal in this fixture?
Let's proceed to Mikel Arteta's Gunners, shall we?
ARSENAL:
1) The Gunners' impressive run of away games this season has been nothing short of phenomenal.
They are yet to suffer a defeat away from home this season, and you can bet Jaroslav Tvrdík and his men will be wary of this stat.
2) Another stat that favors the Gunners is Slavia Prague's "not too good" performance at home in the knockout stages of this competition.
They've played a goal draw in both home games, 2 all against Leicester City, and 1 all draw against Rangers.
Don't you think Mikel Arteta and his men will be looking to take advantage of this stat?
CONCLUSION:
Hmm, looks like we've got huge stats favoring both teams here, however, stats favoring Mikel Arteta's men puts them in a better position to progress into the next round.
Nevertheless, we shouldn't underestimate Slavia Prague either as we might just see them get another big win.
Feel free to drop your thoughts and predictions, they will be hugely appreciated.
Love always from your Football Analyst and Writer, IbkDaGreat.