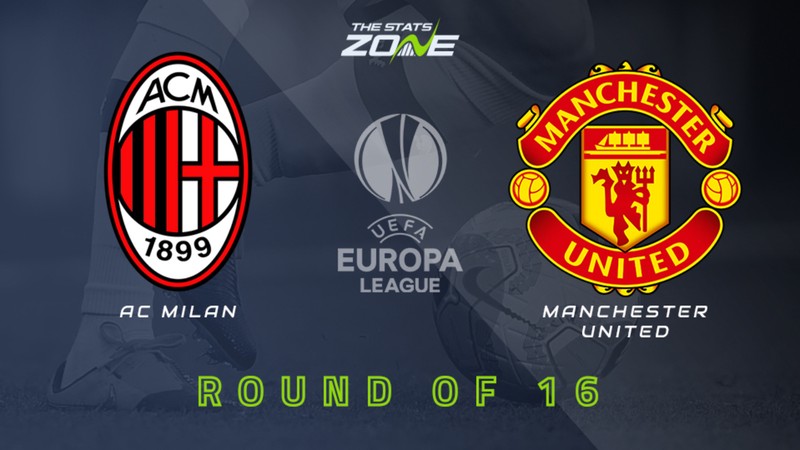 With the likes of Ajax, Villareal, Granada, Roma, Arsenal and Tottenham Hotspur looking all set for the Quater finals of the Europa League, we are left with the games involving Rangers versus Slavia Prague, and AC Milan versus Manchester United as the only ones left without a clear headway.
Yes, it's Thursday night Football in Europe, and it's the UEFA Europa League for sure.
However, of the 2 games mentioned above, our focus for today's analysis will be on the game involving the Rossoneris and the Red devils.
Both European giants will definitely be looking to outsmart each other in order to secure a place in the competition's next round.
But before we pick sides, let's take a look at some stats/facts that favor either side progressing into the next round if you don't mind.
Starting off with the home team as usual:
AC MILAN:
1) One major fact that goes the way of Stefano Pioli's men is their "Away Goal" advantage.
A goalless draw in this game is more than enough to see them progress into the next round of the competition.
A good one for the Rossoneris, isn't it?
2) The Rossoneris also have the comfort of playing at home on their side.
The last 3 visits of the Red devils to SanSiro have ended in 2 defeats and 1 win.
This should provide Stefano Pioli's men some confidence going into this game.
However, the stat/fact stated above will be our gateway to looking at stats favoring the Red devils
MANCHESTER UNITED:
1) Aside defeats to Istanbul Basaksehir and RasenBallsport Leipzig away from home this season in all competitions, you all will agree with me that 1 team you don't want to play against when you are the home team is Manchester United.
Their amazing run of 21 unbeaten "Away games" and counting in the EPL is definitely one stat that buttress this point.
AC Milan:s own results in their last 4 home games in all competitions give the Red devils a bigger boost as well.
The Rossoneris have lost 2 and drawn 2 of these 4 games.
A big overall stat in favor of Ole Gunnar Solskjaer's men you might want to say.
2) Another stat that favors the Red devils is their better performance in their last 8 games in all competitions compared to the Rossoneris.
The Red devils have 4 wins and 4 draws in these 8 games, whilst the Rossoneris have 2 wins, 4 draws, and 2 losses.
Another good stat for Ole's men, isn't it?
3) This 3rd stat can also be categorized as a "Fun Fact" but it is definitely a stat as well.
It's nothing other than the Red devils attachment to the Semifinal stage of Cup competitions.
Since the beginning of last season, they have gotten to all 4 Semifinals of the competitions they've played and were eliminated, bar the UEFA Champions League of course.
What makes these stat amazing is how the Red devils scale past top opponents you would expect them to lose against, be it at home or away from home, but in the end succumb to a suprisng loss once they get to the Semifinal as they did agaijsgy Chelsea and Sevilla(although this side also has its history with the Europa League) respectively.
For me, this is definitely going to be a big stat/fact favoring the Red devils till this "Semifinal jinx" is broken.
CONCLUSION:
In all, it's most likely that the Red devils will be the victor at the end of the war based on the stats we have at hand.
However, I am very much open to suprises as well.
Your thoughts and predictions on this game are very much appreciated.
Love always from your Football Analyst and Writer, IbkDaGreat.