Good day guys, what's Sporty from your end? Well, something big is about to go down in Spain few hours from now, guess what? It's the Copa Del Rel Final which will be played at Seville between Barcelona and Valencia.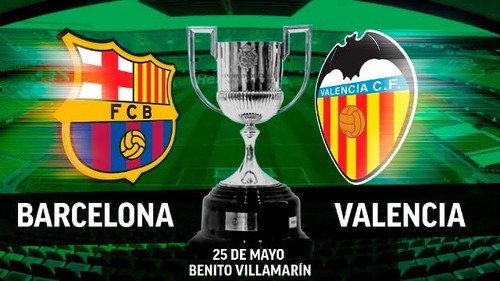 It promises to be another frenzy Saturday, as most football fans all over the world would either be expecting Ernesto Valverde's side to hit a double this season after their ignominious elimination from the Champions league, or look forward to another bad night for Barcelona, as the team is not in their best form currently, and perhaps Valencia will draw inspiration from Liverpool's triumph over the Spanish champions. Valencia have never been an easy underdog for any team, and tonight presents them with another chance to prove their mettle against the most dreaded team in Spain.

Opportunity For Barcelona To Say "We're Sorry" To Their Fans
For Barcelona, they know what's at stake. They can't afford not to Pacify their fans after such a European heartbreak at Anfield. It's just one of those disappointments the Catalan fans may not forget in a short while. Their Champions league elimination may have no remedy, but the squad have to overcome their past and move on to the future. Winning Valencia tonight may not obliterate the nightmare of the Champions league, but it can help boost the teams morale ahead of next season.
If they is anything left in the Consciousness of the defending champions ahead of this clash, it's the simple fact that failure to lift the Copa Del Rey trophy tonight is unacceptable and nonnegotiable. If they must continue to enjoy the unwavering support of their fans next season, they need to right their wrongs against Valencia when both teams go against each other later today. Barcelona have only won the Cup Eight times in their history, and have only grabbed it four times in the last decade. That's to show you that if they must attain glory tonight, they have to fight for it.
Messi In Good Mood Ahead Of The Clash
If there is any good news for Ernesto Valverde and Barcelona squad ahead of their Copa clash with Valencia tonight, it's the fact that their talisman is in high spirit and to a reasonable extent, in good mood. Lionel Messi has just grabbed his sixth European Golden Boot after netting 36 goals for Blaugrana in La liga this season. The closest is PSG Kylian Mbappe who only managed to score 33 goals in Ligue 1 and was hopeful until yesterday when they lost their last game.
With such mood, Valencia knows they have got a huge work to do defensively if they must keep the Argentine captain at bay(if that's possible though). Messi had hoped to lift a treble in his first season as Barcelona's captain, but fate thought otherwise, as he got knocked out by a resilient Liverpool side. He still stands a huge chance of winning the Ballon d'Or this year, after scoring 12 goals in the champions league. The Barcelona captain is aware that lifting the Copa trophy will make him stand more chance to grab the prestigious award for the sixth time, and perhaps break away from his rival Ronaldo who also have five Ballon d'Or to his name.
Ernesto Valverde Under Pressure, Job At Stake
The outcome of the Copa Del Rey Final may not culminate at the blast of the final whistle if Barcelona fails to win the Cup. Someone's job may go with it and that's Valverde's. After Barcelona got kicked out in the Champions league by Klopp's side, lots of Barcelona fans took to social media to criticise the coach and requested for him to be fired. While winning the La liga maybe a cool achievement this season, the under fire Barca Boss knows he needs to add the Copa Del Rey to that, if he must soften the hearts of the demanding fans. It's a no mistake night and his decisions should better work as planned.
My Fears Ahead Of The Game
Barcelona squad maybe seeing a makeshift line-up especially in the attack. With the veteran Uruguayan striker Luis Suarez sidelined because of injury, there is uncertainty on how Valverde will go about his replacement. So it means the defending champions are heading into the game without a recognized center forward. While Suarez may not be at his prime in recent times as regards scoring goals, we can't sweep under the carpet the fact that the former Liverpool goal poacher is a big threat to any team in his day.
His tendency to unsettle the defence and charge them into pressure cannot be overemphasized, and that part of Barcelona's attack may be misses tonight if a proper replacement is not done. This is just that moment when Barcelona may regret ever allowing Paco Alcacer to join Borussia Dortmund last summer. Even though Alcacer was not prolific in scoring goals at the Camp Nou, the 25 year Old is no doubt the best back-up forward Barcelona would have had, and he has been proving his mettle at the Signal Iduna Park.
Allowing him to leave may not be the issue, but failure to replace him with another better forward was the error. Prince Boateng for me is no hope up front, I just don't trust him enough to play in Barcelona shirt. It will be too much risk if Barcelona should put all their attacking hopes on Messi, Valverde's Plan-B must be well chosen.
My Prediction: Barcelona 3-1 Valencia.