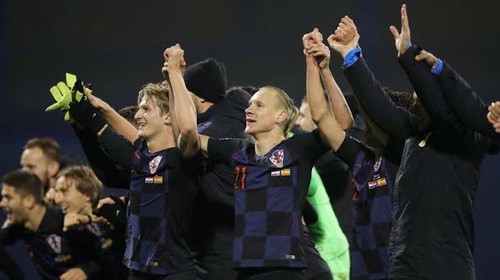 A lot of drama went down yesterday in the ongoing Nations League as teams continue to battle for a spot in the knockout stage of the tournament. I was more interested in the Croatia v Spain match. Though prior to the game, I actually thought that Spain would be coming out with a draw or win, especially after pummeling Croatia in the first leg. However, football never ceases to surprise me, and yesterday's clash was one those moments. If it was in the days of my bet, I would have probably lost the bet, thank God Scorum betting platform has not been launched yet, maybe I would have lost a good number of scorum coins.
Before the kickoff of that match, I had actually gone through their previous five encounters, and guess what, Spain seems to have an upper hand. The statistics are so overwhelming that anyone will be tempted not to have a rethink before placing a bet for Spain to win. Some bettors still believe that precedents or past games do have a psychological effect on teams when they come against each other. In their past five meetings, Spain have won three, drew one and lost one to Croatia. Not only did they win more times, the goal difference is quite intimidating. The Spanish side have scored 10 goals while Croatia have only managed to scramble in 3 goals against their rival.
With all these intimidating past encounters, the 2018 World Cup Finalist came into the game on Thursday with only one mission in their mind, and that was to prove that they are a force to reckon with in European football. The earlier other so called big teams gives them their deserved respect, the better for them. The outcome of yesterday's game have thrown open the possibility of any of the teams breaking in to the knockout stage of the tournament. However, the fate of Spain totally depends on the outcome of Croatia v England match. How did Spain find themselves in this kind of web, let's keep our fingers crossed and see how it unfolds.
---
________________________________________________________________________________________________________________________________________________________________________________
What Transpired In The Game, Spain Still Got Hope?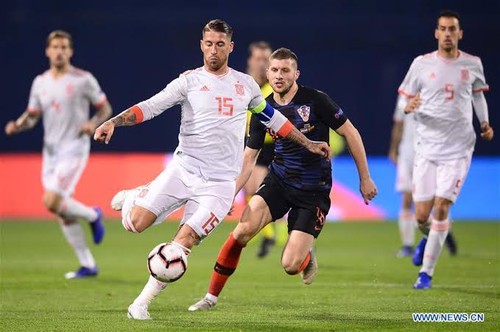 Yesterday's win against the 2010 World Cup winners saw the Croatian side reviv their pursuit to progress into the knockout stage of the Nations League. Not so many saw it coming, I didn't either. The game tookmy breath away, second half played host to all the drama I never predicted. Jedvaj's masterful display saw him net a brace to blow up their hope of progressing to the next round, as they warm up for what I may call "Clash Of The Titans" match against England. That game will determine who goes through to the next battle, and the helpless Spain can only pray for both team to end in a draw. Don't miss this game.
Though the Luka Modric's side have not had a roller coaster ride in their Group 4 outing in League A, they were ready to go against all odds to make their opponent pay for the ignominious defeat they suffered in the first leg. Spain had battered them with an axe in their last game, and it was time for revenge, even though they had to succeed through the eye of a needle. However, no one cares how the victory came, all that mattered was the three points, and they got it. But after the incredible display in Zagreb, the Croatian national side are now preparing to bulldoze England in their next clash at Wembley.
==========================================================================================================================================
---
The first have didn't witness much fanfare, but the second half came with fire and brimstones, thanks to the dressing room inspiration from the coaches. It took a last lap goal from the Croatian fullback to keep his country's hope of qualifying alive. That last minute strike left Spain on a very tight conner, as they will have to nervously sit and hope that Croatia and England plays a draw when they meet in London, after all, they have exhausted their group matches.
The first goal is what I will call a gift from the back line, and funny enough, the experienced Sergio Ramos was involved in such costly mistake. Of course they were made to pay for it, as the resilient interception by perisic saw him set Kramaric up for a coal finish. This kind of gifts doesn't come often, and they just had to take it when it came. Spain responded quite well, as they attack from the left flank. Isco was allowed to square in a pass for his Real Madrid team mate Ceballos, which he executive with ease. Croatia will later restore the lead, but Ramos pacifying penalty levelled the score line again. With with little time remaining, Croatia knew they had to risk it all, they surged forward in their numbers, and finally it was the 22 year old's dying minute goal that made the difference.
What's the hope of Spain, you think it's still possible for them to progress, considering their circumstance?