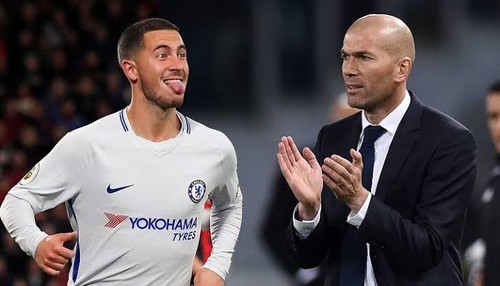 It was a smiling day for Madrid fans as they played host to Granada, a team that caused an upset against the league champions Barcelona some few days back. Zidane's side have suffered lots of had times already this season, both in the league and even in their European encounters(one of it being their 3-0 humiliating defeat in the hands of PSG not too long ago). The former European champions have been quite unstable in their results since the beginning of the season and despite staying on top of the league table for now, everyone knows Real Madrid are far from what they're know for.
---
Their difficulties in grabbing three points is really worrisome and were beginning to brand Eden Hazard as a bad investment. The Belgian have been passing through difficult times as he tries to settle into the squad. The pressure was just so much on him despite just coming back from a slightly injury. To whom much is given much is expected. The Chelsea most Valuable player has been seen as one of the Galactico that will help Madrid navigate through the storm which Ronaldo's departure has brought about. However, after few games and inability to get a goal, the media stated buzzing with how Hazard is adding nothing to the squad. He has kept his cool and implored the fans to be patient with him, and his fortune finally found him during today's match with Granada.
---
The Stamford Bridge legendary figure broke his duck as Los Blancos player in win against resilient Granada to bring to an end his goal draught since joining the Spanish giants. Not like Hazard hasn't been playing well, but his inability to get goals made his efforts appear like it had no impact. You could see that relief in his smile and celebration when he doubled Madrid scoreline, a goal that drew standing ovation from Madrid fans who have been waiting for this moment. Perhaps, they have learnt to honour their best players now after their criticisms played a role in Ronaldo leaving the Bernabeu. The game ended 4-2 in favour of Real Madrid, however, it seems all eyes are on Eden Hazard who got his first goal and even provided an assist for Luka Modric.
---
Zidane Will Be Happier Now
Well, Zidane will be happy that his boat is beginning to respond as expected, and in no distant time, they will sail to the harbour once again. They have been stocked in the sea for some time now and having Eden Hazard in his best form could be the igniting fire the French boss was waiting for. He has never doubted Hazard's abilities and have continued playing the Belgian captain. For Hazard and Madrid, they will be hoping to sustain this tempo and exert more pressure on teams. They need to consolidate this form and try to give Barcelona a wide gap before Messi fully recovers for the Catalan side.