Real Madrid has continued to mount unwavering pressure on top European clubs as regards their quest to find a possible replacement for Christiano Ronaldo or buy a "Galactico" ahead of next season challenge. So much has happened to the status of the European champions after Zidane resigned and and their talisman left for Turin. They have gone from one of the most dreaded team in recent times to an average team(putting it on a lighter note).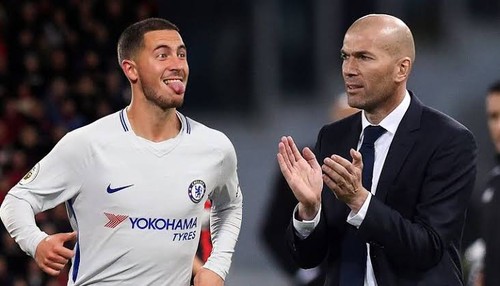 Despite producing the Ballon d'Or winner in the person of Luka Modric, the Los Blancos have continued to suffer for an administrative mistake of allowing the Portuguese captain to leave. Maybe he would have stayed back if they had increased his pay, and perhaps things would have been better. I mean, he deserves every penny he requests for. With Juventus still seeing the untapped Value in the five times FIFA World Best winner, they keyed in and swept him off from the Santiago Bernabeu.

It's not been easy for Madrid trying to cope without their venomous striker and goal poacher, their magician and the biggest thing that ever happened to Los Blancos. To add salt to injury, Zidane resigned and Lopetegui was signed to replace him. However, Lopetegui appeared to be a square peg in a round hole, he didn't just fit in and the team's performance continued to dwindle with the rise of every Sun. The Vacuum was too obvious for even the blind to see.
Though many of us initially thought that the likes of Benzema, Gareth Bale and the entire team will see it as an opportunity to prove to the world that Madrid's glorious years was not shouldered by the Portuguese alone, and that they could thrive without him. However, subsequent downfall occassioned by Ronaldo's departure speaks volume. And though Madrid will later sack Lopetegui and Sign Santiago Solari, the Argentine could only try his best but his competent best was not enough to navigate the European Champions through their troubled waters.
The Return Of Zidane and Madrid's Desperation To Right Their Wrongs.
With Madrid having no hope of kissing a silverware this season, and the President coming under severe criticism for allowing Ronaldo to leave, Florentino Perez capitalized on his amicable relationship with Zidane and talked him into staging a second coming. The French legend has been test running the squad to know how to mend the cracks of his once glorious team. But it's now put beyond doubt that the Los Blancos must hit the market hard and get a Galactico if they must be contenders next season.
Rumours have been making the rounds about their possible signing of the Brazilian Neymah, or the French Starlet Kylian Mbappe. While nothing official has been released from PSG as regards a possible contract with Madrid in relation to the two big names, there have been a swirling hope in London for the Spanish giants. Eden Hazard could be the first new big name we may witness in the Madrid shirt.
Even though the Blues have been a bit reluctant and trying to persuade the Belgian captain to remain at Stamford Bridge by signing a new contract, Hazard has indicated interest severally in his possible move to Santiago. The blues knowing that he is their best asset and perhaps the best player in English Premier League, have pegged the Belgian price at £130million, isn't that outrageous! The 28 year Old have been Chelsea's most Valuable Player for years now and could add so much value to the blues if he stays.
I pretty think Chelsea are being opportunistic due to Madrid's desperation to sign a Galactico, and am yet to believe that Madrid will be willing to release such jumbo sum. Whatever the case may be, I just feel Chelsea is heating the price out of proportion. Do you think Chelsea is heating below the belt or do you think Real Madrid deserve what they are getting. In fact, do you think it will be judicious for Madrid to buy Hazard at such price?