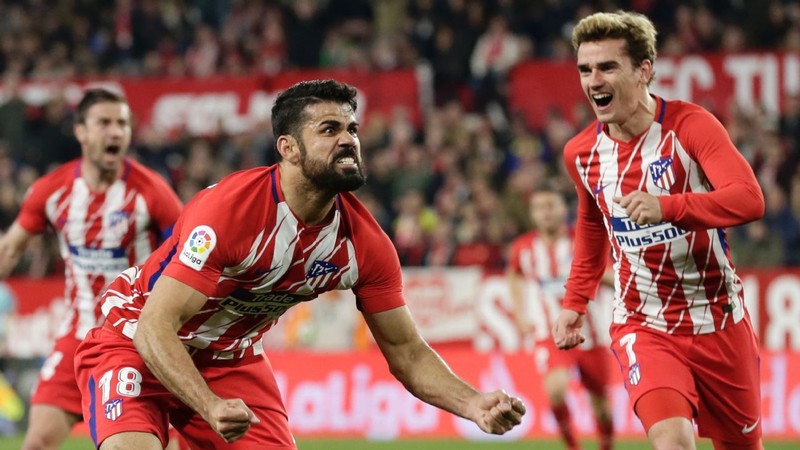 It wasn't a Friday to remember for Los Blancos as they got pummeled 3-7 by their city rivals Athletico Madrid in one of their Preseason encounters. Yeah, many have been advancing the argument that preseason results rarely reflects a team's readiness for the season. However, there is for me a cause to worry if I was to be a Madrid faithful.

---
Real Madrid are currently trying to build Something out of their last season ruins and results like this even though it's a preseason game, is not Something to be proud of. With the arrival of Zidane and signing of some players including Eden Hazard from Stamford Bridge to help boost the team ahead of the season, a 3-7 humiliation from a motivated Athletico Madrid side raises a red flag and the need for Los Blancos to put their ass together before the season begins.
---
Madrid has been on the headlines for some time now especially as regards the controversy between the French boss Zidane and former Tottenham Hotspur's star man Gareth Bale. The coach raised lots of dust after dropping what many described as a derogatory remark towards Bale. He was of the opinion that it will be good for everyone if the Welshman seek greener pastures somewhere else, as he tries to offload some players and create space for new signings.
---
If there is one thing the real Madrid squad must not fail to do, it's that dread which they've been know with for years. With the season set to kickoff in no distant time, sending signals across to herald their revival is something they can't fail to do. Their arch rivals Barcelona must be conscious of the threat they wield if indeed they wanna reclaim their position as the most dreaded team across Laliga. No matter how we may try to sweep this under the carpet, truth is, Real Madrid are still far from ready ahead of the season.
---
For Diego Simeone, it was a must win match as he unleashed his squad on Zidane's Los Blancos. Many would have been expecting the departure of Antonie Grizemann to the Camp Nou to slow down the motivation of the team, but Simeone is not a man who puts his hands on the plough and looks back. Over the years, he has built a very strong opposition out of Athletico Madrid to help curtail the untrammeled dominance of Barcelona and Real Madrid in Spain. A very passionate young coach who doesn't believe he can be intimidated by any team.
---
At New Jersey on Friday, the Athletico boss showed Zidane what to expect in the coming season if Madrid don't mend their cracks as soon as possible. His side were Five goals up against Zidane's side on Friday as Madrid only had to battle their way back to end the game 7-3 in favour of Simeone's side. The game saw Diego Costa net four goals before getting his marching orders. The striker is in good form and though his mannerisms on the pitch have always been a cumbersome task for managers to contend, Simeone seems to understand Costa pretty much and of course getting the best out of the Spaniard.
---
Simeone's side ensured the game was put beyond reach before halftime, as they went 5-0 up before the break. It was really incredible and one could see the surprise on the fans at the MetLife stadium on Friday, I can bet no one saw it coming. After the game, Madrid's coach expressed his disappointment on the outing. Zidane said "What happened is that we entered the game very badly. A high-level competition, we entered very badly. At eight minutes we were down 2-0. There was no response from us to change something. The first part was difficult. We never entered the game. We have lacked everything. Especially intensity."
---
What's your take on this, you think Madrid Will Have A Better Outing When The Season starts or you think this scoreline is a reflection of the team's current form?