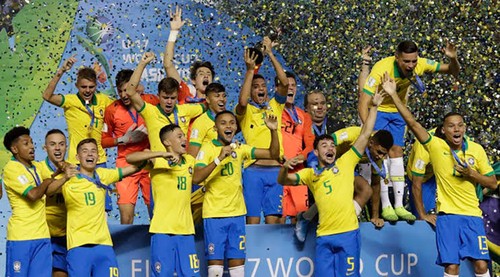 The FIFA U-17 World cup which took place in Brazil has finally come to an end. Sure, everything that has a beginning must surely have an end. It's been a mouthwatering tournament, especially watching upcoming stars running on the pitch with so much vigour and eagerness to rise beyond their mark. You can see the passion in their eyes, that spirited gait when they're emerging from the tunnel is glorious. It's unfortunate that at the end of it, only one team will have to go home with the trophy, and on this occasion, it's the host Brazil who went home with the crown, after coming from behind to steal a 2-1 win against a resilient Mexico side. It was indeed a Thrilling final! Funny enough, Brazil shouldn't have been in this tournament in the first place. The Brazilians didn't qualify for the competition after performing below expectations in the South American qualifiers. But then something happened.

---
Peru that were suppose to host the tournament this year where having organizational problems, and FIFA had no choice than to allow Brazil host it. It's very funny that it's a team that wasn't meant to be competing in the first place that ended up winning the trophy. When the tournament started, Nigeria and France were favorites to win the competition. The Brazilians have proved that it's not a matter of failing that makes one a failure, it's ones inability to learn from his past mistakes that brings him to ruin. Moral Lesson: Never underestimate anyone because they failed yesterday, they may turn back to become better than you tomorrow. Lol.. That's by the way, we aren't here for moral instructions, so let's get sporty again.

---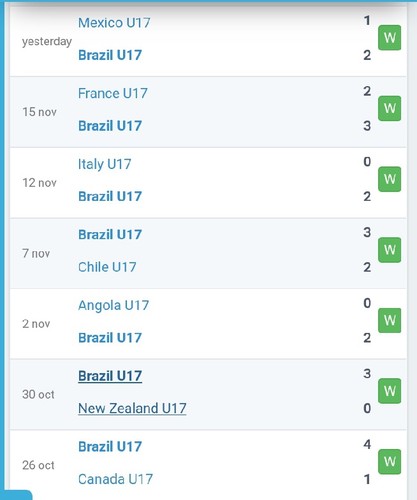 You will recall that Brazil had to shock the world by coming back from two goals deficit against France in the Semi Finals to beat them 3-2, which gave them a ticket to the final match against a highflying Mexico side. Mexico have won the tournament twice, 2015 and 2011, and they were on track for the third trophy when Alonso Gonzalez put them in front in the 66th minute of the game. The goal sent chills across to the home fans and I thought it was over for Brazil. But then, the host pressed on, and of course, with 6 minutes left in the clock, they got a somewhat controversial penalty which saw Kaio Jorge execute it with aplomb to level the score. I thought we were gonna go into extra time, but then, Brazil had other plans. Just at the 93rd minute, Lazaro Vinicius Marques struck the net to handover the trophy to Brazil, you can call it the death blow. Brazil now have four trophies in this category, after lifting it in 1997, 1999 and 2003. What this mean is that, they're one trophy away from Nigeria who have won the tournament for a record 5 times. Brazil maintained a perfect record in this tournament as they won all their matches starting from the group stage. Bravo!