The battle between Liverpool and Manchester City on who will get the the Premier league crown this season is far from over, as the reds are not leaving any stone unturned in their quest to write their names in gold after almost three decades of League pursuit. Klopp's side proved they have the will power to push the fight to the end. Many of us thought Chelsea will be a clog in the wheel of Liverpool's title push, but the manner at which the host dominated their visitors shows they won't be throwing in the towel any time soon.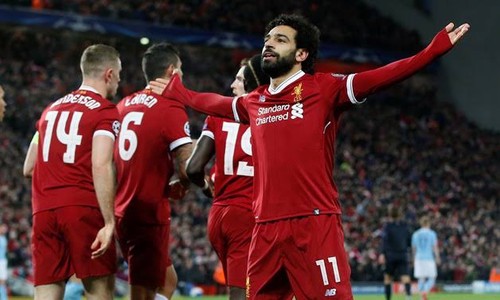 Liverpool are tentatively sitting at the top of the premier league table with 85 points to their name, while The Pep Guardiola led side are second on the log with 83 points. However, City have one outstanding game to play, which if won will put them back on the top. The citizens have continued to exert pressure on Liverpool and have made Klopp's mission a rough adventure so far. Under Klopp, the guys from Anfield have grown to become a formidable force, and a further slip by their most troubling English rivals could see them lift the Premier league.

For a while now, it appeard Mohammed Salah had gone on goal scoring sabbatical or a little decline in his scoring form, however, Sunday's jawbreaker goal against Maurizio Sarri's side at Anfield disproved all hovering doubts. Salah has been one of the most dreaded forward in the Premier league and even in Europe since he arrived from Stamford bridge. He now has Nineteen(19) goals in this campaign and has recorded seven(7) assists so far. He is on course for another Golden boot prize, however, he will need to be consistent if he must overcome Manchester City's Sergio Aguero, who also has 19 goals in the league. Salah is not famous for firing long range stunners like the kind he scored against Liverpool, however, it came in a moment when it mattered the most.
The Egyptian has a legendary figure in his home country and have inspired them to numerous victories. Having found love in Liverpool, the left footed goal poacher has kept his own end of the bargain and has continued to sparkle. Thrown into the wilderness by Chelsea, he has mustered courage and has blended himself into a talismanic figure at Anfield. It took the Egyptians mouthwatering long range strike against the blues to bury any hope of the visitors salvaging a point from the game. His awesome goal made it 2-0 for the host and this crucial win meant the reds are still fired up to finish what they started.
The noise and chants of joy the elicited from the crowd was that which gave a real meaning to that inscription "You will never walk alone." Yah, I appreciated that remark better during and after the match. The support was overwhelming, and trust me, it will take a very strong opposing team to psychologically withstand such an intimidating support Liverpool players received from their fans. That alone was for me enough to water down Chelsea's morale at Anfield, and even Eden Hazard could do little or nothing to help them this time around. With almost everywhere covered with red colours, it was all an amazing sight to behold for me.
After Liverpool drew the first blood through Mane's goal to put the host ahead, I was thinking it will awaken the sleeping lion in the blues. But it was obvious that Maurizio Sarri had no clue on how to turn the tables against Klopp's side. The Egyptian had picked up one of those Van Dijk's awesome passes from the right flank. My mind was racing with Salah's pace but he ran faster and left me in the dark guessing. I didn't see it coming, at least not from that angle and distance. I can also bet it took the World Most expensive goalkeeper Arrizabalaga unawares too.
Such a jawbreaking 25 yards powerful strike or thereabout is not always friendly with anyone in between the sticks. I was the Egyptian's 22 goal of the season, and trust me, it's just that kind Chelsea won't forget in years to come. The blues came to truncate the possibility of Liverpool lifting the trophy, but what they got from Anfield were flames of brutality. Liverpool really needed composure to unsettle the blues and they did it with aplomb. Despite Manchester City beating Crystal Palace earlier in the day to increase the pressure on the red, Klopp's side proved their mettle and showed they are far from giving up in this title race. "What we did to win this game was amazing, It was a fantastic performance, an even better atmosphere and a very important result." Klopp said after the match.
The Title race continues, but whomever is thinking that this current Liverpool squad is gonna throw in the towel anytime soon, I will advise him not to put his money. With fingers crossed, I can't wait to see which team is gonna slip. What do you think, Liverpool or City? Lemme hear what you've got to say.