The blues took another bold step to tell the world that they are not ready to settle for nothing this season, hence they took no chances in intensifying their drive to finish in top-4 and head for the champions league next season. Though the Hammers tried their best to make the sail a rough one for Chelsea, but in the end, Class won the game. The battle to book a spot is currently a hot one in the English Premier league, and only the strong will emerge from the flames. With Arsenal unable to grab three points at Goodison Park against Everton on Sunday, Chelsea made sure they took advantage of Unai Emery's slack to tighten up the space.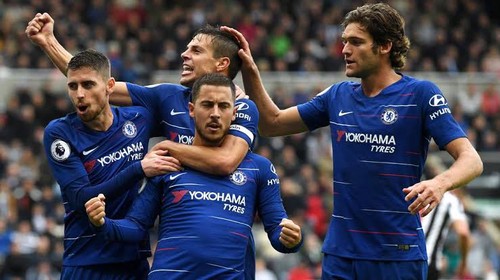 Though it hasn't been a rollercoaster ride for Maurizio Sarri since his arrival in the Premier league this season, the Former Napoli boss is really exploring all possible chances to make sure he doesn't fail to make it to Europe's most Valuable competition on club level next season. Convention and precedent have proved over the years that a club like Chelsea really have no much patience to condone failure, and so could fire a manager who fails to live up to expectations. Yah, I think they share that in common with Real Madrid, you're either at your best or you're shown the back door.

For many of us, we thought Sarri will be receiving his sack letter about a month ago when he was having issues with Chelsea most valuable player, but surprisingly, he seem to have survived the storm. With the blues back to their winning consciousness, the pressure on the former Napoli boss have declined and I hope the team continues in this light. Many have always criticised him of his rigid style of play and refusal to explore other options as regards formation and team line-ups. The fans craved to see their young Starlet Hudson-Odio feature more for Sarri, and those cries have forced Sarri to make some few adjustments. Guess what? It's paying off and the starlet is fast proving that he is worth the hype and attention, and could be one of the biggest stock at Stamford Bridge in few years to come.
All Hail Hazardous "Eden Hazard"
It was another glorious night for the Belgian Captain who continued to prove why he is one of the most dreaded players to play against in Europe. Most times, some football analysts argue that Eden Hazard is a football product that is fit for Barcelona or Real Madrid. I can't really tell the message they are trying to pass, but to the best of my knowledge and I stand to be corrected, I think they're simply saying Hazard is too good to play for Chelsea. Do you agree with them? Hahaha... Chelsea fans don't take that likely, so watch your back while you speak. Monday night saw his magic in display against a high defensive back line of Westham. His talismanic display was all the blues needed to pull through and he proved his mettle.

It was as though the whole 90 minutes was all about the Belgian playmaker, as he shone on the pitch from kickoff to the blast of the final whistle. Sometimes, it's very risky to take some caliber of players for granted even for few seconds, because they have the ability to wreck a havoc that will outlive their career. Having netted sixteen goals and provided twelve assists so far in the Premier league this season, the Belgian legendary player can be said to be the most efficient attacker so far. Yah, I know about the likes of Sergio Aguero, Sadio Mane, Salah etc. However, I will vote Hazard over others in terms of team impact. Trust me, whether you agree or not, Eden is fast growing to meet the Likes of Messi and Ronaldo up there, and with an envisaged move to Santiago Bernabeu, the World can't expect less from him.
Hazard put Chelsea on the lead before the half hour mark to light up Stamford Bridge. That strike is one of his all time best, maybe because of how he took the shot and considering the fact that it came from his left foot. Westham United defence and Lukasz Fabianski could do little or nothing to stop him from shinning. It was his 108th goal for the blues in all competitions, equalling Chelsea's 9th all time top scorer George Hilsdon. His goals against the Hammers also took his goal tally for the blues in the league to 85, trust me, he is a legendary figure. Having netted nineteen goals so far across all competitions this season, the Belgian international will be on his way to breaking the 20 goals jinx in all competitions for the first time since he arrived at Stamford Bridge.
His display was a message that Madrid is really going for one of the hottest products in world football currently, Scoring two goals against Westham to make sure Chelsea solidify their quest to finish top four this season. The game ended 2-0 in favour of the Blues and Sarri will sure be full of praises for the Belgian who has helped him remain in his job. Apart from the Belgian masterful performance helping Chelsea grab three points, it's gonna be a nudge on Florentino Perez to act fast and waste no time in signing this "Galactico." The 28 year old has got the spark the European Champions are looking for, and will sure be a major force drive Zidane's next season army. Though the blues wanna entice Hazard to renew his contract at Stamford bridge, but I doubt Hazard would wanna stay. It's time to take his career to the next level, and there is no better place now than the Santiago Bernabeu.