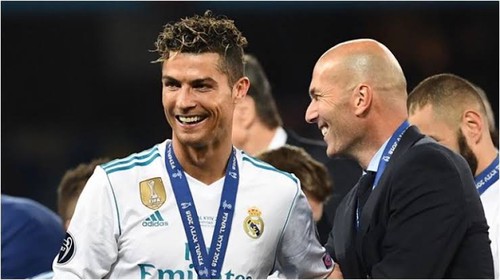 The carryover of Struggles by Real Madrid from last season despite Zidane's second missionary journey return is becoming more worrisome not only to Madrid faithfuls but also to rival fans(especially Barcelona fans) who seem to be missing the tension and frenzied atmosphere anytime the Catalan club faced Los Blancos. The uncertainty and unpredictability of "El Clasico" which many football enthusiasts believe is one of the most viewed(if not the most viewed) rival matches in World, is fast waning with Madrid's decline.

---
When Christiano Ronaldo departed to Turin after having a little disagreement or a bit uncomfortable with Florentine Perez, many bloggers and media outlets were of the view that Ronaldo will regret leaving the Bernabeu, since Madrid players were the ones who determined his stardom on the pitch. There where also discussions on who will feel the negative impact of such departure more, Madrid or Ronaldo? Zidane had built the squad around the Portuguese goal poacher who fired Los Blancos to three Consecutive Champions league wins under Zidane.
---
With the likes of Benzema and Gareth Bale all playing second fiddle to Ronaldo in the attack, the five times Ballon D'Or winner and Portugal's captain was the figure head of the offensive for Madrid and was their target man anytime Madrid were with the ball. The team grew so used to having Ronaldo pull some magical stunts, and that made him so pivotal in Madrid's historic Champions league feats. While Ronaldo has moved on to Juventus and doing pretty well to a reasonable extent, Madrid is seen still struggling to find their stamina even after a year Ronaldo left. Some thought that the arrival of Zidane would bring Los Blancos back to their Dread, but anytime they play, Ronaldo's absence is so conspicuous.
---
For me, I think it's their over dependency and playing the ball around one player is the cause. Now that Ronaldo is gone, they are finding it a bit hard to start learning moves with the likes of Benzema and Bale. Maybe Madrid can learn from Barcelona. The Catalan club are already bringing up new young players as possible replacement for Messi when he retires. With the likes of Ansu Fati, the future of Barcelona will not dwindle the way Madrid dwindled. This week saw Real Madrid humiliated by PSG in an encounter that saw PSG beat the former European champions 3-0. One of the most shocking thing is the fact that Madrid didn't fire a shot on target, what a stats.