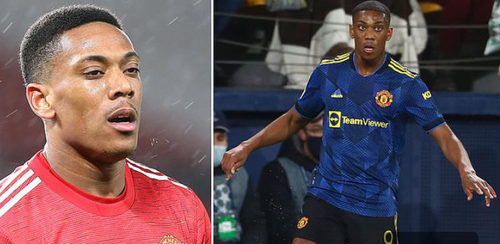 TRANSFER NEWS: Manchester United could be stuck with French forward Anthony Martial
For the time being, Manchester United are yet to receive an offer for French midfielder Anthony Martial.
This could be a major factor that may end up fueling his stay longer than expected.
Anthony Martial's desire
It is no news that Anthony Martial desires a move away from Old Trafford. The Frenchman had significantly fallen down the Manchester United hierarchy after the arrival of Ralf Ragnick.
This season, the Frenchman has only made 10 appearances with about eight coming from the bench. And in line with his action, Martial's agent has pointed out that the Frenchman desires a move away from Old Trafford.
The focus of Anthony Martial
From a recent statements, Anthony Martial's agent made clear his decision concerning his future. Martial wants to get regular game time. And so far, Manchester United is not offering that.
The likes of Barcelona and Atletico Madrid are reportedly interested in his signature. However, no official offer has been made for thee French man.
Barcelona have been reportedly looking for a replacement for Sergio Aguero. Ever since the forced retirement of Aguero, the catalan giants have constantly been on the lookout for a replacement.
Overview
The fact that no official offer has been made for Martial up until now would no doubt be distressing to the Frenchman.
He can only hope that the situation changes for the better sooner.