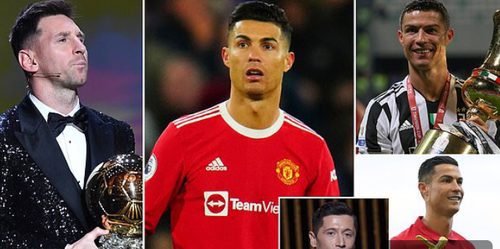 TRENDING: Cristiano Ronaldo publicly backs claims that himself and Lewandolski were robbed off Balon d'Or award
It is no news that Argentine legend and Paris-Saint-Germain star Lionel Messi emerged as Balon d'Or winner for the 2021 footballing year.
The star player clinched the award head of Polish star Robert Lewandolski. From the results dished out to the public, Lionel Messi got ahead of Lewandolski with about 33votes.
Ronaldo shares his thoughts on Balon d'Or winner
However, few days after the announcement, Ronaldo has given a tip of his thoughts concerning who was favourite to emerge Balon d'Or winner.
The Portuguese talisman finished sixth behind the likes of Messi, Lewandolski, Jorginho, Karim Benzema and Ngolo Kante. Yet, it is clear Ronaldo expressed doubts about his ranking.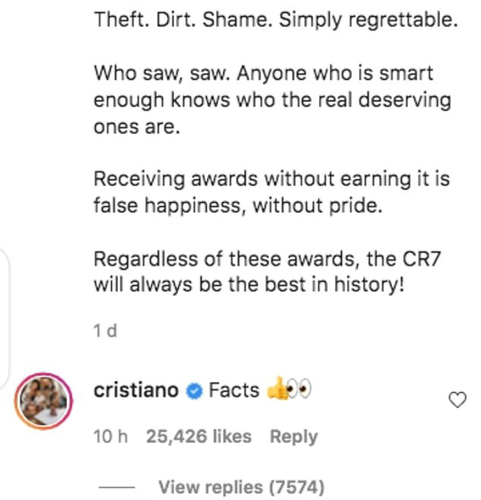 Ronaldo reacts to the comment of fan
Ronaldo took to his Instagram handle to comment under a post made by a fan. The fan gave detailed reasons why he believed that Ronaldo should have been placed ahead of Messi in the rankings.
And in reply to the fans post, Cristiano replied "Facts" alongside a thumbs up emoji.
The fan explained in details the achievements of Ronaldo in 2021 in comparison to what Messi had done. To round his statement up, he described Ronaldo as the greatest, and the legendary best of all time.
Overview
A good number of football fans and greats are displeased with the eventual winner of the 2021 Balon d'Or award, Lionel Messi.
However, any action taken or statement made now is useless and can be described as crying over spilled milk.